"Click here for our Monthly Garage Door Specials"
Maintain Your Garage Door Quickly and Easily
When your a home owner, maintenance is something we all have to think about. From weekend to weekend, there always seems to be a new project on our to-do list. But what about your garage door and garage door opener. When was the last time you had it serviced? Is it in tip-top shape?
Garage doors are subject to all sorts of wear and tear — both human and mechanical. Your garage door is the largest moving wall in your home and as such, it can be susceptible to breakage and malfunction. Summer heat, cold weather and pouring rain do their part to break down your garage door.
"It was a pleasant experience from start to finish. Got a quote over the phone, fast appointment, job done on time, great tech, and a follow up call to insure satisfaction. It was everything you wish a company would do. You exceed my expectations on satisfaction. A great local company! My sincerest thanks!"
Madelaine G., Flower Mound, TX 9-5-20
A1 Affordable Garage Door Service Technicians Are Highly Trained In:
Repair or replace all makes and models of garage doors and garage door openers.
Repair broken springs, cables and garage doors that have come off their tracks.
Install garage door openers purchased through other manufacturers.
Replace the worn out weather-seal at the bottom of your garage door.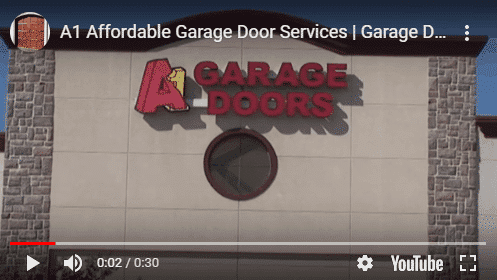 And, what about your children? Are they contributing to less-than-stellar performance from your garage door? Hanging off the garage door may seem like a terrific game, but it's bad for the garage door and potentially dangerous for your child.
"A1 Affordable Garage Door Services delivered on it's commitments and exceeded my expectations. The Technician, Dan, arrived promptly on both his initial and follow up visit. The problem and solution were clearly explained and the repair cost was as stated. I researched the cost of a replacement unit on the internet and could not believe that A1 Affordable was able to complete the job with tax, labor, and installation at the cost I was charged. "Affordable" is definitely an appropriate name for this Company. Yes, I will use A1 again and will recommend them to my neighbors. A1 gets five out of five stars in my book."
Jim D., Flower Mound, TX

"Technician programmed keypad at no additional charge.
Technician did not try to sell me additional product/service that I did not need!"
Tom D., Flower Mound, TX
Garage Door Repair Flower Mound TX – Schedule a Repair or Replacement Today
Don't worry. Together with A1 Affordable Garage Door Services, we can keep your garage door looking and operating like new. However if you want to maintain your garage door, here's what you can do:
Perform monthly maintenance including checking the safety reverse on your garage door opener.
Visually inspect all garage door parts including springs, rollers, cables, hinges, and hardware.
Never remove, adjust or loosen the screws on the bottom brackets of your garage door. These brackets are connected to the torsion spring by the lift cable and are under extreme tension.
Have an experienced A1 Affordable Garage Door Services professional maintain and service your garage door and garage door opener on an annual basis to keep it working properly.
"The technician was very helpful in explaining the work that needed to be done. He was knowledgeable in answering all of my questions. The work was completed in a reasonable time and with satisfaction. Thank you."
Robert S., Flower Mound, TX
Timely maintenance can prevent most emergencies relating to your garage door and garage door opener. A1 Affordable Garage Door Services also serves the surrounding cities including Lewisville, Grapevine, Little Elm and Coppell.
Here are a few safety tips to keep in mind:
Perhaps the biggest safety tip is to watch your children around the garage door. This is particularly important during the summer when your garage door opens and closes frequently. Garage doors aren't toys and it's up to you to ensure that your children don't treat them as such.
Discuss garage door safety with your children, including the dangers of being trapped under a door when a torsion spring breaks or the children try to "trick" the infrared safety beam.
Explain that hands and fingers should be kept clear of section joints, hinges, tracks, and springs.
Proper maintenance and care can keep your garage door repair and garage door opener serving you beautifully for many, many years. So call A1 Affordable Garage door services today to learn how we can help you with your garage door repair Flower Mound needs.
"Click here for our Monthly Garage Door Repair Specials"
Garage Door and Opener Showroom
If your looking to fix or repair your own garage door or opener. We are one of the only repair parts showroom open to the general public. To get directions or learn where our garage door showroom is follow us here. Here you will find directions, showroom hours and possibly the part your looking for. Call first so we can check the garage door item your wanting to purchase.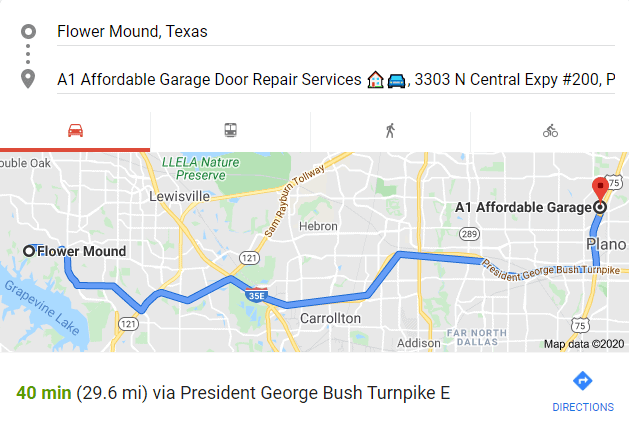 "We had a great experience with A1 Affordable. From the phone call I placed to completion of them servicing our garage door. I have only positive things to say. They are honest, friendly and great at what they do."
Amber S., Flower Mound, TX

"I felt the service and care for the solution was excellent – No Need to improve"
Michael L., Flower Mound, TX
"Reasonable pricing, courteous techs and quick to respond. Very impressed with your tech Russell!"
Walter T., Flower Mound, TX
"The opener reinforcement bracket recently broke on one of my garage doors and was showing signs of metal fatigue on the other. I called on a Sunday afternoon and Dakota arrived on time the next day to replace the brackets and tune the doors. I had seen your vehicles around my neighborhood in the past so you were the first and only repair company that was called. The process was pleasantly quick and simple and as as added bonus cost significantly less than I anticipated. I highly recommend A1 Affordable Garage Door Services for any garage door repair needs."
Erik A., Flower Mound 7-20-20