Our Plano Garage Door & Opener Showroom Google Map Location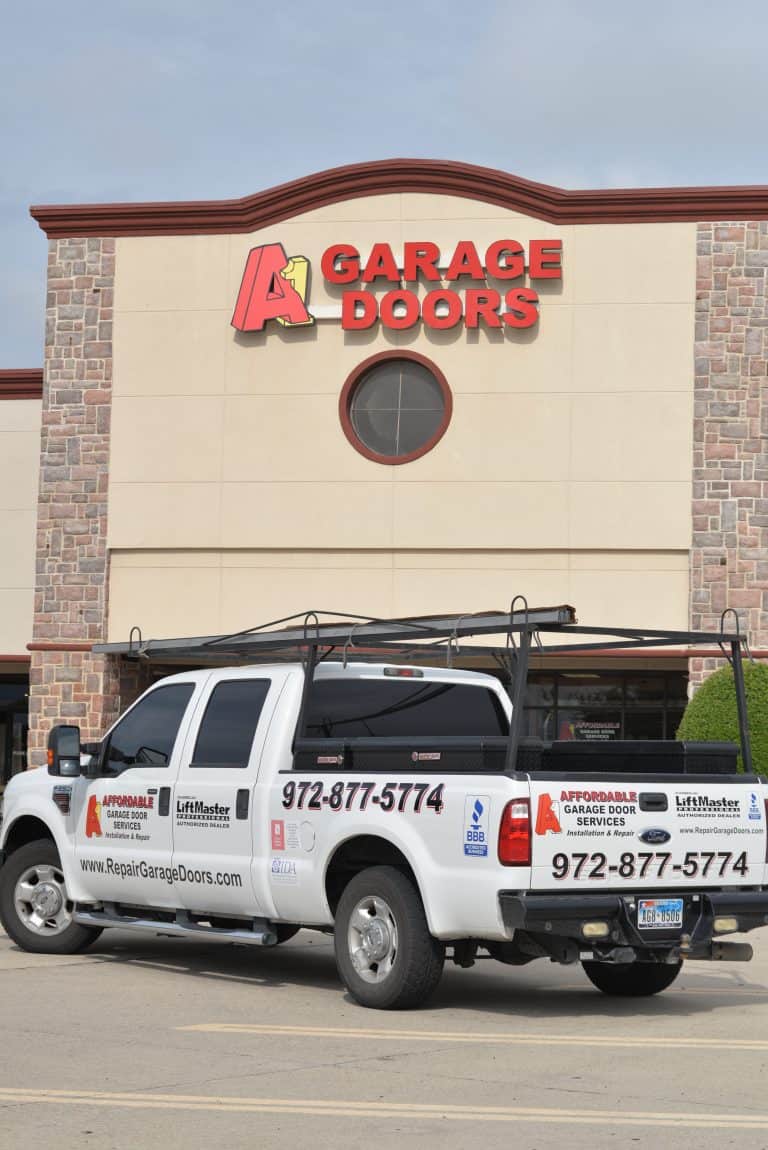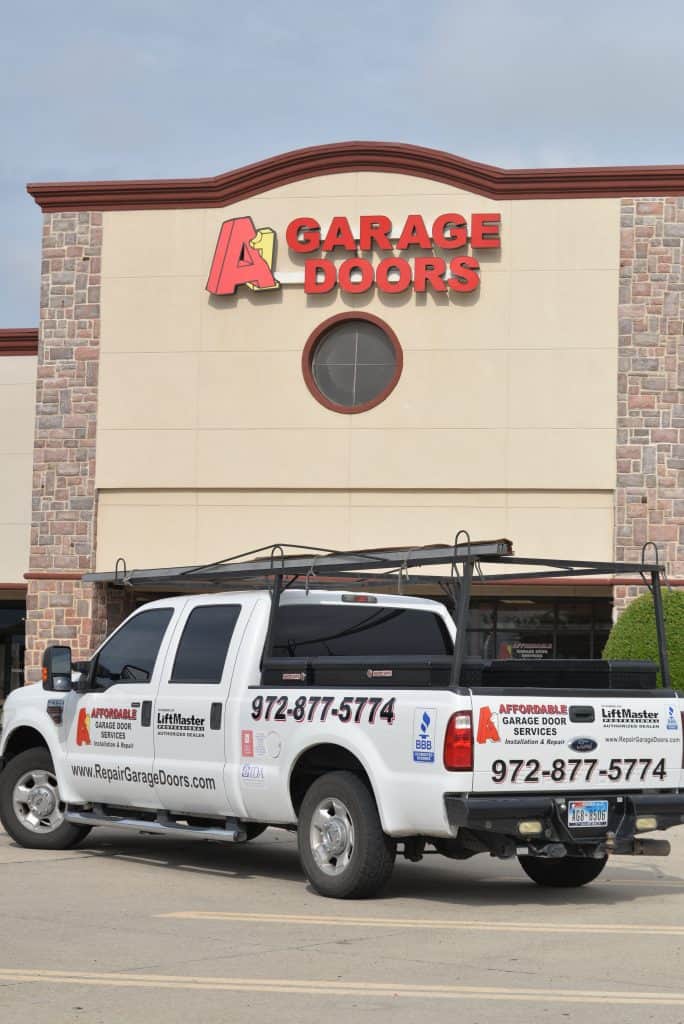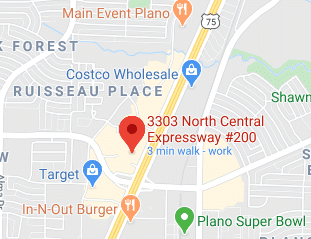 Plano Garage Door Showroom Hours
8:00 am – 5:00 pm Monday
8:00 am – 5:00 pm Tuesday
8:00 am – 5:00 pm Wednesday
8:00 am – 5:00 pm Thursday
8:00 am – 5:00 pm Friday
8:00 am – 3:00 pm Saturday
Emergency Service Available – After Hours Calls
3303 N. Central Expwy, Ste 200, Plano, TX 75023
Located on the Northwest corner of Parker Road and Hwy 75 next door to Burlington Coat Factory, Hertz Rent A Car and Cavender's Boot City.
Directions to our Plano Garage Door Showroom
From Dallas: Travel north on Hwy 75. Take the Parker Road exit then go west on Parker Road. Turn right into Ruisseau Village. Turn right at the stop sign and then left in front of Burlington Coat Factory. Our suite number is 200.
From McKinney: Travel south on Hwy 75. Take the Parker Road exit. Just before the Parker Road East sign go right into the parking lot at Ruisseau Village. Our suite number is 200.
Virtual Tour of Our Plano Showroom
Can't make it out to see our Plano showroom? Take a virtual tour then give us a call for all your garage door repair needs.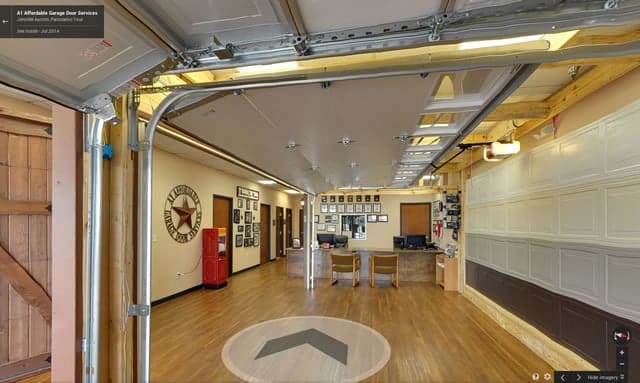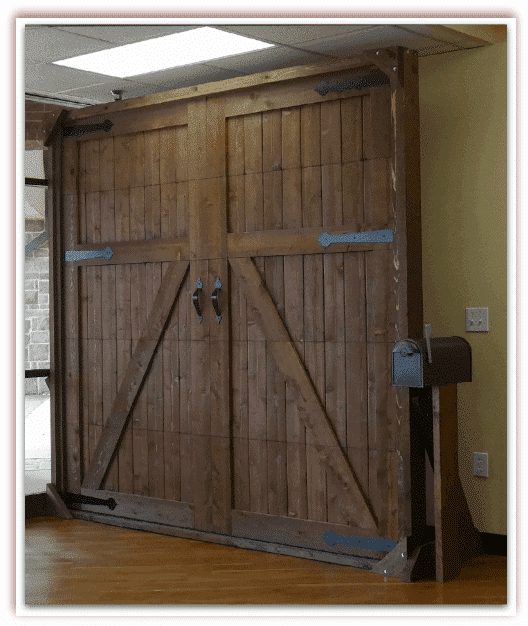 This is a Completely Custom Cedar Wood Garage Door made in Texas. Stop by to see touch and feel the beauty of this door.
A LiftMaster 8587 "I" rail chaindrive would be a great choice to open and close this style of garage door.

Welcome to our showroom where a customer can see a standard double car 16 x 7 and single car 8 x 7 garage doors on display with a working LiftMaster 8550W Beltdrive garage door opener. We also carry some parts for the "Do-it-yourself" repairman. Stop by for a demonstration today!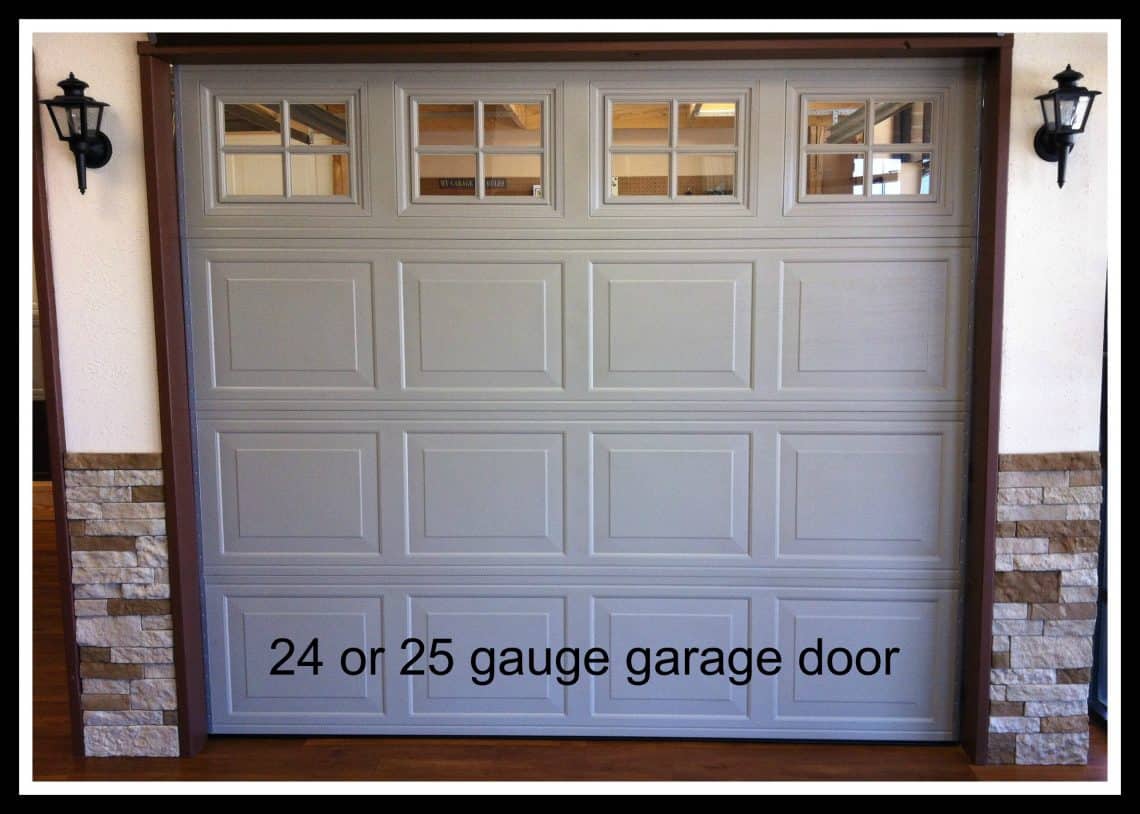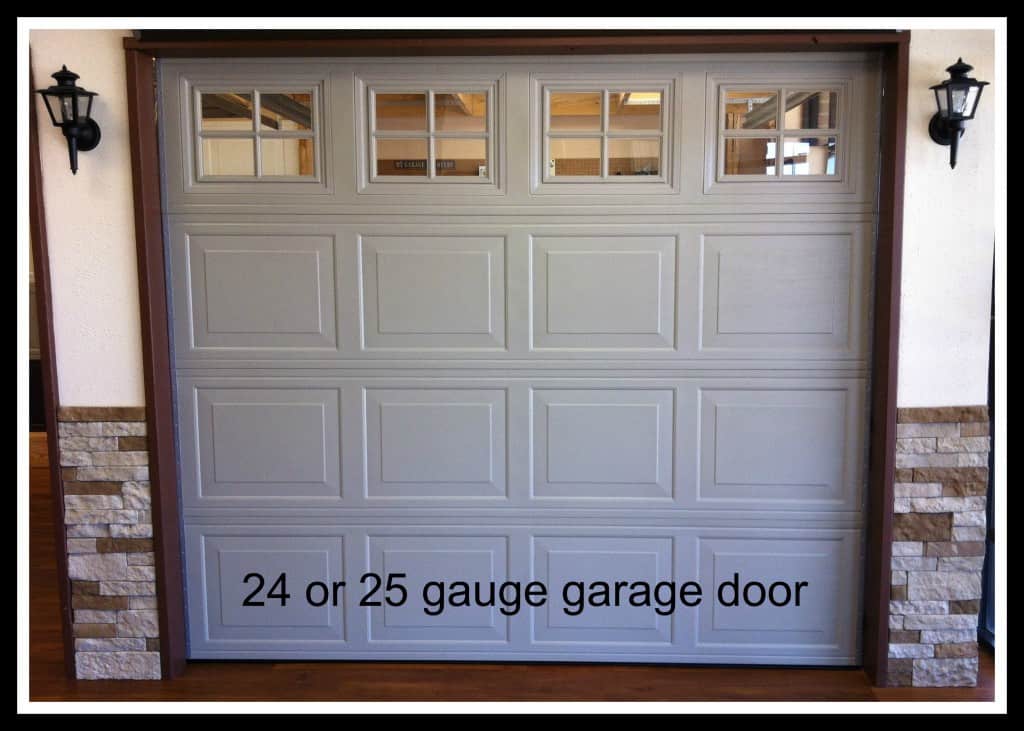 This is a standard 8 x 7 single car garage door in Sandstone with 4 glass and stockton inserts. This garage door can be ordered in a 24 gauge steel better quality or 25 gauge steel builder grade.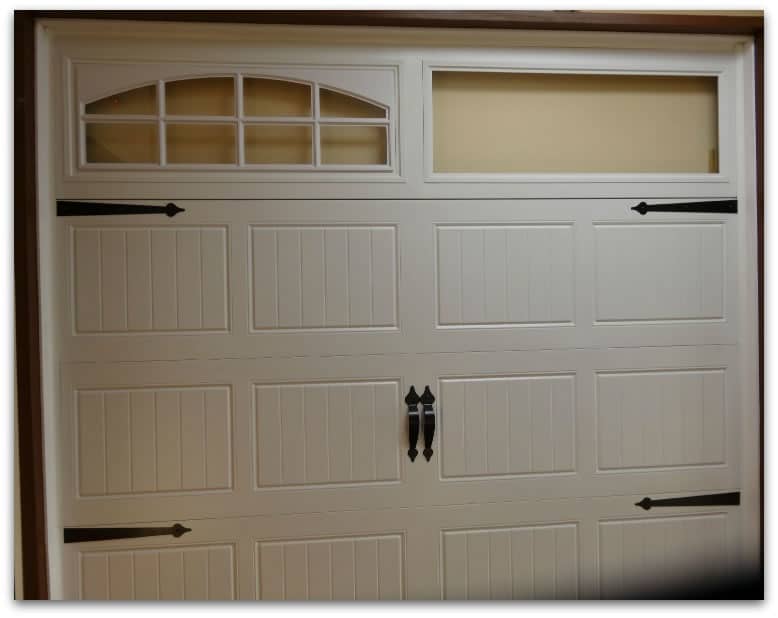 This is a Carriage House style door. On the left side it has a window insert and on the right side just a clear window. There are several other insert styles to choose from.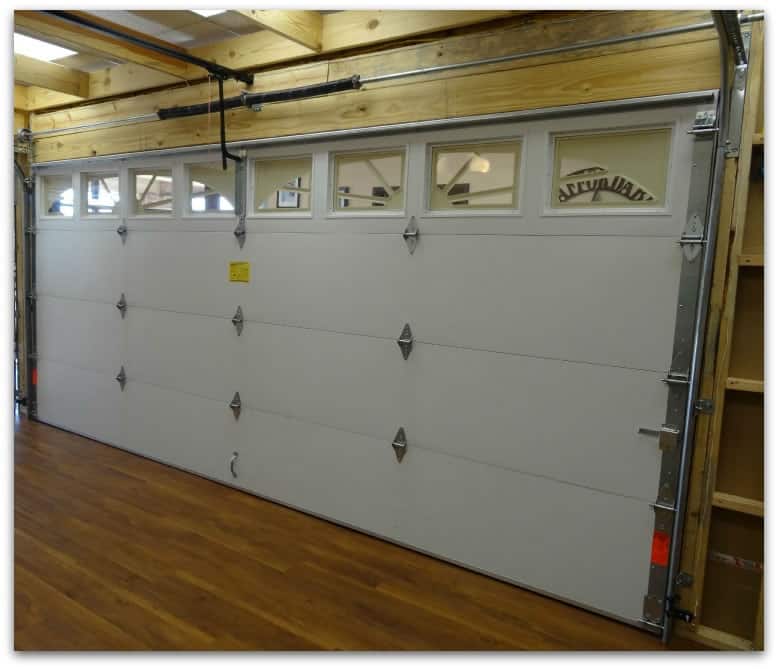 This is a double steelback garage door or can also be called a "sandwich construction" garage door. This door has 2″ thick of polystyrene insulation between two layers of hot dipped galvanized steel. The front of the garage door is 24 gauge steel and the back is 27 gauge steel door.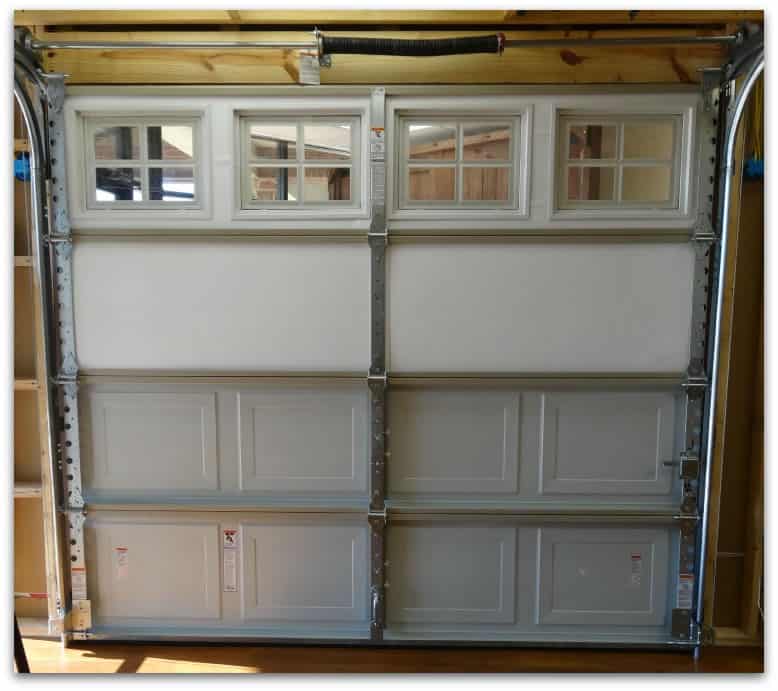 This is a standard 8 x 7 steel garage door that has insulation in the top two panels and non-insulated in the bottom two panels.
We repair garage doors and openers in Plano, Allen, McKinney Frisco and surrounding areas.
Coming Soon LiftMaster Driveway Gate Operators. Swing gate as well as slide gate will be on display.
"The office was quick and helpful. The repairman was very nice and he was very helpful and took the initiative to fix the bolts at the top holding the motor and tightened the bolts. Really appreciate the call to keep me informed of arrival"
Tara P., Plano, TX
Authorized LiftMaster Dealer
In our Plano showroom we have two different garage door openers on display. They both operate garage doors so you can see and hear the difference between the two. The LiftMaster 85503 beltdrive with integrated camera is working on our 16 x 7 standard steelback garage door. The LiftMaster 8500W Wallmount garage door opener is working our our small standard 8 x 7 garage door.
"I found you guys in a business handout from the city of highly rated businesses to use. I was not disappointed at all. Bee's were finding there way into my garage the past "years".
Building mud nests and getting in to small parts of the garage door openers and wiring holes. I bought some foam strips but decided I had no idea what I was doing, that's when I looked you up.
My garage is sealed and no more bees, gone for good! Thanks for the fix and great service which began with the phone call and ended with a great fix."
Geoff G., Plano, TX 7-26-20