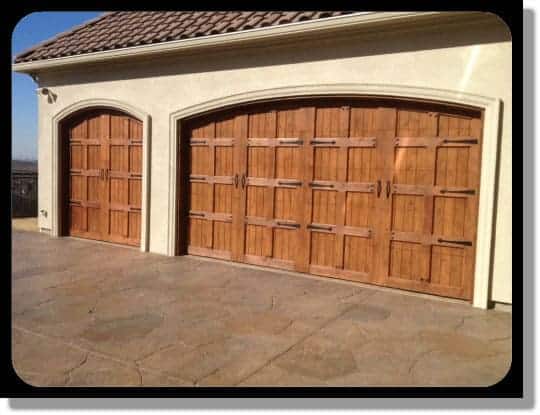 These doors are 100% Hand-Crafted Custom Wood Garage Doors from the highest quality materials available. The door frames are handcrafted to exacting specifications. The doors are hardwared, including struts. There are many design choices to choose from. The tongue-and-grove and varying design options are all applied to the door frames using the utmost care to ensure the greatest degree of quality that is possible in the finished product. Click here to see the 30+ design options available.
"We recently purchased a cedar wood garage door from A1 Affordable GDS and we couldn't be any happier with the door and service provided. The office staff was very knowledgeable, helpful, and friendly. The two technicians that came to install the garage door were very professional and they did a great job. It looks Awesome!! We would not hesitate to recommend A1 Affordable Garage Door Services to family and friends. Thank you A1 Affordable GDS!!!"
Josephine A., McKinney, TX
Windows on a Custom Cedar Wood Garage Door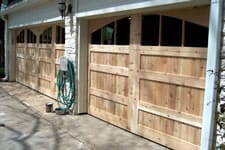 Arched Top and Hardware on a Custom Wood Garage Door
Hand Crafted Custom Wood Garage Door Features
Frames are constructed with vertical grain Douglas fir. This dense wood is exceptionally hard, stiff and durable making it an outstanding choice for garage door frames.
When applying lap-and-gap effect for proper section alignment, the Douglas fir is precisely "ripped". This also prevents an rain entrance.
Individual frame sections are manufactured and assembled with the entire door in mind.
Each individual frames of the frame-sets are assembled to exacting specifications to ensure precise vertical alignment of stiles and horizontal alignment between the sections.
The finished bottom frame section has cross bracing that is manufactured resembling a truss to increase strength and durability.
Two struts installed per section on all doors exceeding 13' in width to prevent sway and warp tendencies.
All fixtures, struts and hinge assemblies are commercial grade products.
The trim package overlays the tongue-and-grove giving the hand crafted custom wood garage door its distinct look and unique characteristics.
Using computer software to determine proper wire size, all counter balance springs are cut to the proper spring length to prevent "hot" or "heavy" doors.
Optional hardware and/or window packages available.
Custom Cedar Garage Doors – Frequently Asked Questions
Q: Can the garage doors be stained?
A: At the very minimum, a protective sealant must be put on the garage doors within two weeks of installation.
Q: What type of maintenance do these garage doors require?
A: In short, use a garage door lubricant on your hinges, rollers and torsion springs once a quarter to keep your garage door running smoothly. It is recommended to stain the cedar garage doors every 3-4 years.
Q: Are these metal garage doors with wood overlay?
A: No. This is a custom wood garage door made right down to the specified size.
Q: My garage door is an off size. Does that matter?
A: We custom build your garage door for you. Most importantly, we will need exact measurements to assure that your garage door is correct, right down to the last inch.
Q: How do I measure my garage door?
A: For example, We will need both width and height. For width, measure from inside of jamb to opposite jamb. For height, measure from the middle top of the opening to the flooring. Having an arched opening, you will need to measure each side from top to bottom as well.