Garage Door Specialists
and
Certified Gate Repair Team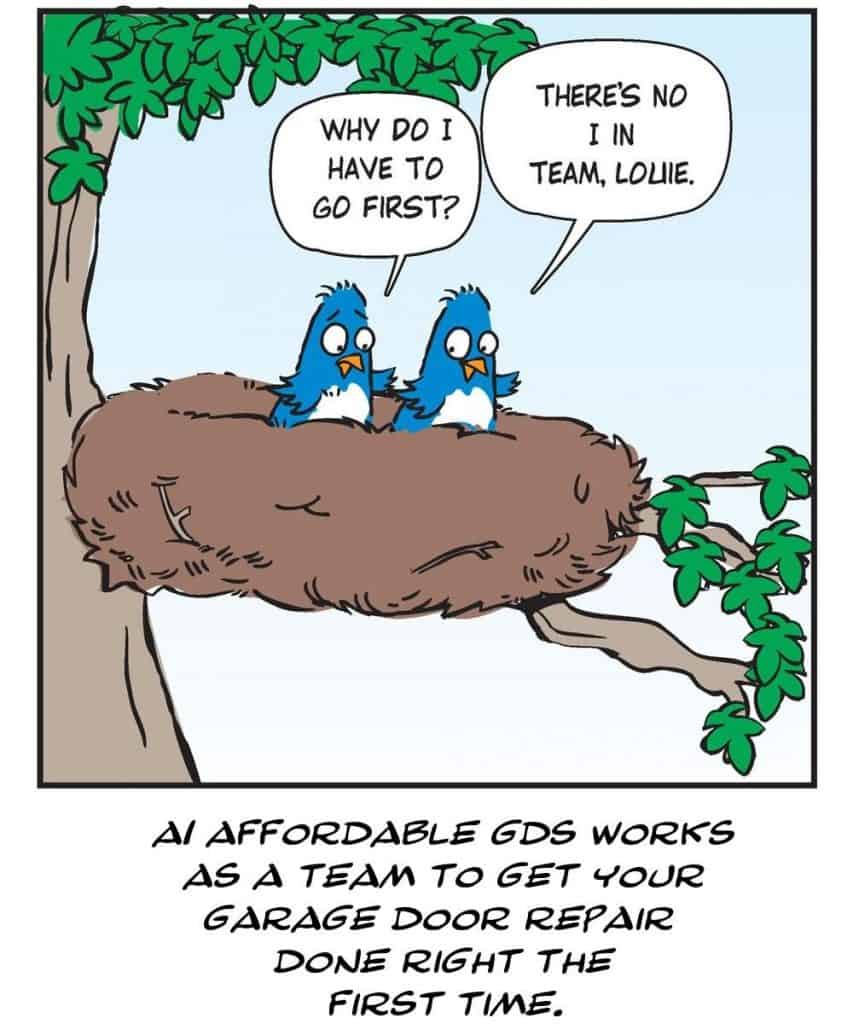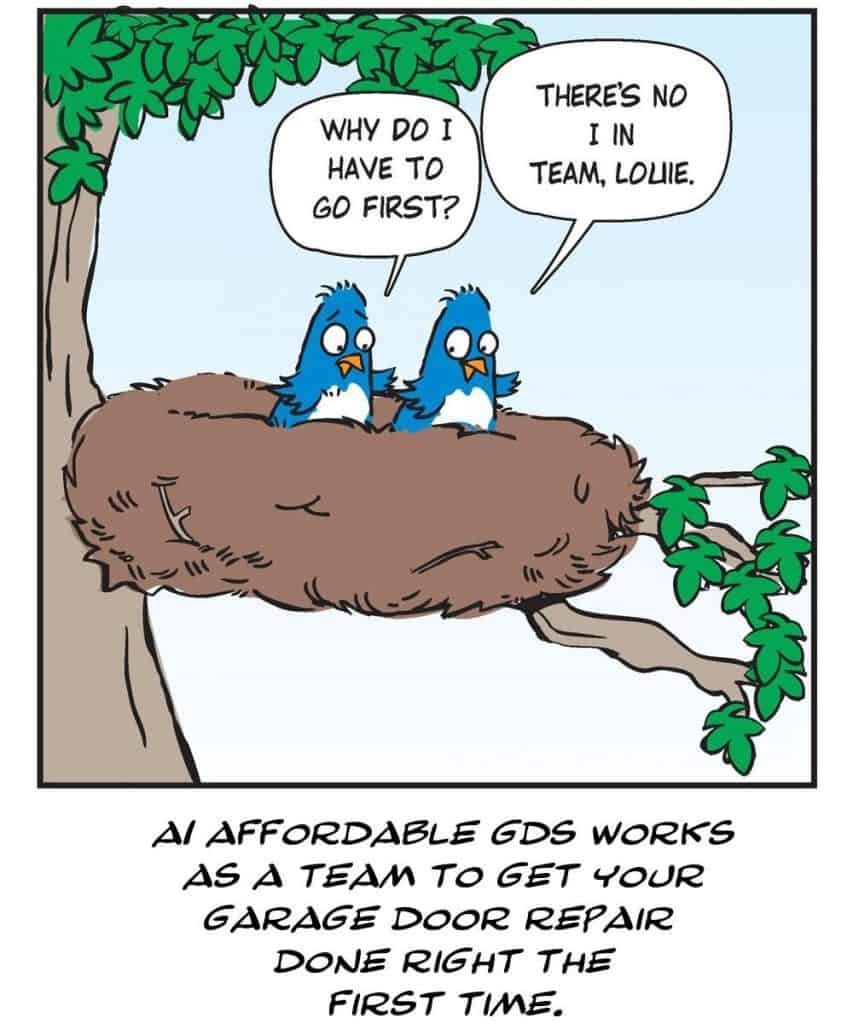 The garage door repair team is eagerly waiting your phone call! Our garage door specialists take great pride in helping homeowners understand how their garage door and garage door opener functions. Answering any questions they might have and helping them program remotes over the phone. Whatever the need may be, our garage door repair team is here to help 24 hours a day seven days a week. Thanks for stopping by to learn more about our garage door repair team.
Call Today – Experience The Difference!
Garage Door Specialists – Office Team Members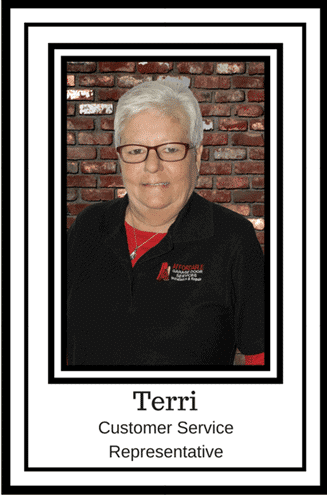 Terri joined our team as a customer service representative. She was with her last company for 27 years and took an early retirement. I guess she wasn't really ready to retire as she is back to an 8 to 5 position and excited to try something new. Terri has reached her three year mark with us and hope for many more years of service! She is one of the friendly voices on the other end when you call.
Terri 's favorite thing to do is float in her pool! Terri has 3 children that are grown and married. She gets to spend a lot of family time with her grand kids and spoils them rotten!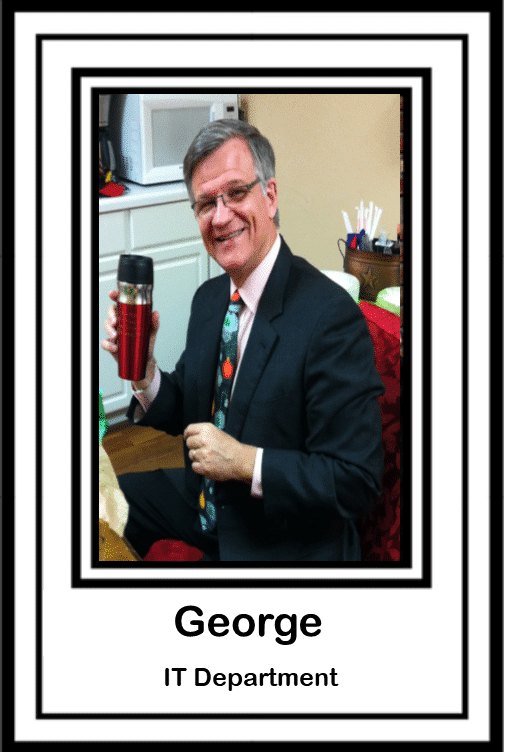 George joined the garage door repair team in our IT Department. He is an outstanding IT guy and really knows his stuff! Always smiling and having a good time.
He loves what he does and approaches all the challenges of computer problems with humor.
In other words, there isn't a "crash" he can't fix! He truly is an expert at what he does!
Garage Door Service Technicians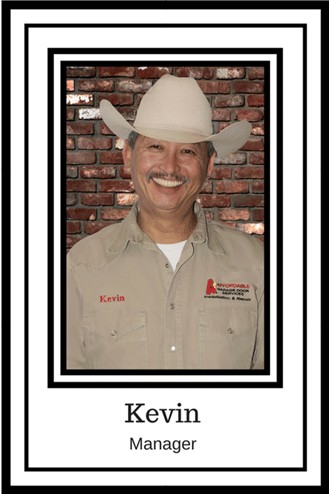 Kevin is our "funny guy" manager in the office as well as with our customers. He keeps us all in stitches. His knowledge and expertise of the functions of the garage door and garage door opener are unmatched. Our customers always remember his name when he repairs their garage door. He is dedicated to his job and has a great sense of humor.

In his spare time he loves to ride his 2004 Harley Davidson Softail motorcycle and hang out with his puppy Banzai. Banzai is not such a small puppy (one year old now) he is only 120 pounds. The breed is an Akita and in addition will more than likely grow to 130-140 pounds!
In October 2017 Kevin went thru LiftMaster's Gate Training Academy in Tucson, Arizona. He passed all the testing and is now one of our Certified Gate Specialists.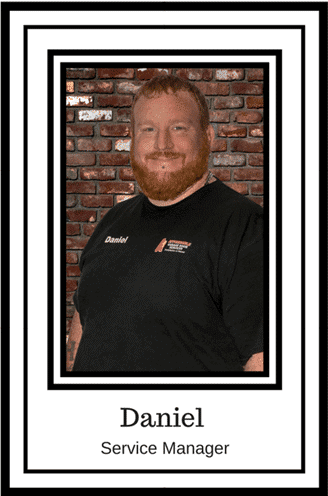 Daniel is our "punctual" service technician. He always starts his day early so he will arrive at the customers home early. Really hates to be late! Our customers love his thoroughness and how he explains the repair in layman's terms with no pressure. Daniel is engaged and enjoys four children ranging in age from 4 to 21 which keeps them very busy!
Daniel was promoted to Service Manager in May 2016! Congratulations Daniel, we are proud of you and how you take care of A1's customers!
Gate Operator and Garage Door Service Technicians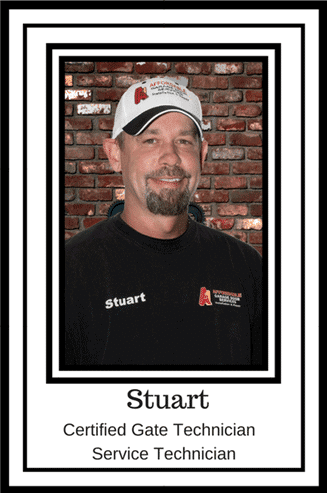 Stuart is originally from Houston and recently lived in Missouri for 17 years. Stuart and his wife wanted to make a change so they moved "back home" to Texas. They have 2 beautiful daughters. He loves to hunt and fish in his spare time. Ask him about some of his funny "Fish Stories".
In October 2017 Stuart went thru LiftMaster's Gate Training Academy in Tucson Arizona. He passed all the testing and is now one of our Certified Gate Technicians.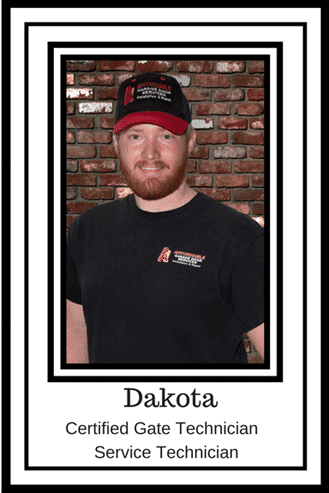 Dakota lives in McKinney with his wife. He is from Pilot Point Texas and loves the ranch life where he rode horses, roped cattle and played in the fields. He is a red head who loves to work with his hands and couldn't wait to get them dirty.

Dakota is our resident "MacGuyver" and probably he can figure most anything out.
In January 2018, Dakota went through LiftMaster's Gate Training Academy to become a certified Gate Specialist. He passed with flying colors and is able to diagnose any issues the gate operator may have.