Here Is How Easy It Is To Install Yourself!
Garage Cold in the Winter?
or
Hot in the Summer?
Garage doors that face the west tend to get very hot, almost too hot to even touch the metal garage door. Having the sun bake on your garage door all day, the heat radiates through the metal making the garage very hot. By adding garage door insulation it will keep your garage a lot cooler.
Garage door insulation can really help if you have a room above the garage. Many times homeowners have a non-insulated steel garage door and the heat and cold radiates through the metal and goes up into the room above the garage. That room stays either cold or hot throughout the year. Garage door insulation can help make that room more comfortable.
A metal non-insulated garage door can be very noisy. Adding garage door insulation can reduce the noise the garage door makes but outside the garage as well.
In the winter the garage door insulation will retain heat for those who like to work out in the garage.
The right garage door insulation will not put any extra wear and tear on the garage door opener.
Having the garage door insulation pre-cut to fit into the panels on the garage door sections will save a lot of time.
Garage Door Insulation Kits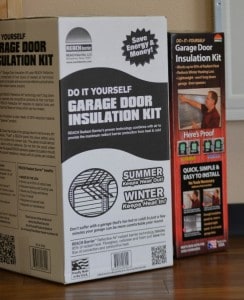 Don't suffer with a garage that's too hot or cold! In just a few minutes your garage can be more comfortable year round.
REACHbarrierTM Reflective Air2 radiant barrier technology blocks 95% of radiant heat. Fiberglass, cellulose and foam just slow the flow of convection and conductive heat.
REACH Radiant Barrier's proven technology combines with air to provide the maximum radiant barrier protection from heat and cold.
Each Kit Includes:Enough material to cover one standard 8′ x 8′ metal garage door.
Eight (8) REACHbarrierTM Reflective Air2 Insulation panels (each panel approximately 24″ x 48″)
Special REACH adhesive system
STOP BY OUR PLANO SHOWROOM TODAY
TO SEE A LIVE DEMONSTRATION