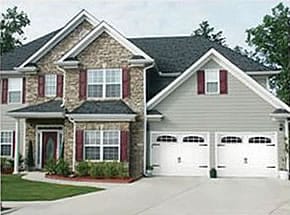 When it comes to choosing a new garage door, there's a lot to consider. There are dozens of
designs and finishes on the market today to explore. Currently one of the most popular style
garage doors is the Carriage House Style Garage Door also known as barn garage doors. One
reason they are so popular is the many varieties that are available.

History of the Carriage Style Garage Door
Carriage Style Garage Doors has a unique story stemming from their original use as pat of a
carriage house in the 18 th in England. Carriage houses became more common beginning in the
mid 1800's in the United States has roads developed making way for horse drawn buggies.
Carriage houses were often designed to be relatively large and detached from the primary
home.

Modern Carriage House Style Garage Doors
Carriage House Style Garage doors are timeless and have a unique look with a unique style that
offers a combination of vintage aesthetics with modern engineering. Carriage House Style
Garage doors are recognizable by their bold vintage hardware and barn-style door designs.
Wrought iron handles and hinges are generally made from wrought iron adding to the carriage
style door an historic charm.

How to choose the Perfect Carriage-Style Door?
Carriage Style Garage Doors come in a range of style, color, design, and feature options to
complement your home. Your garage door color is the first thing you see from the street and is
an essential aspect of your garage door. Modern homes deep rich tones of wood or wood grain
finishes will give your home a warm curb appeal. Farm house Style homes may want to
consider a white garage door that will provide a classic fresh clean look. Carriage Style Garage
Doors hardware provides the vintage design that they are known for. Lift handles, hinges or
step plates can add the vintage finishing touch to your garage door designs.
Our team at A1 Affordable Garage Door Services have extensive experience and are able to help
homeowners select the garage door style and options for your home. Call us today at 972-877-
5774. Serving Plano, Mckinney, Frisco, Allen, Prosper and Surrounding areas.