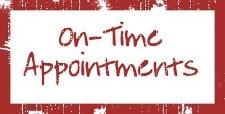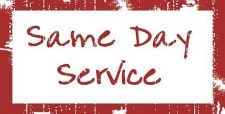 **During COVID-19 we are No longer offering Free Estimates for your safety as well as our service technicians. Thank you for understanding.
COVID-19 Current Information on How We Are Helping Our Customers
"Click here for our Monthly Garage Door Repair Specials"
On-Time Garage Door Repair Appointments in Allen

Can be critical when a garage door falls off the tracks and is hanging over your car or you forgot to make sure the garage door was all the way open before you backed your car into it. It's very scary when that happens. We hope you never have to experience that scary moment but if you do, you can rely on A1 Affordable Garage Door Services to be there within the hour or set an appointment to meet your needs. As a matter of fact, your neighbors called us when it happened to them.

"I selected you (A1 Affordable Garage Door Services) from the internet – pleasantly surprised. I would refer to others. In fact I have."
Becky K., Allen, TX

"When our garage door stopped working, we had no idea to call, but a dear friend recommended A1 Affordable Garage Door Services and we also found the company listed in the 2019 Collin County Five Star Rated Homeowner Referral Guide book.
We immediately called the number and were delighted that a service man was available that very afternoon and he arrived 45 minutes early!
Dakota was friendly and efficient and thoroughly explained the situation to us and offered us two options for the repair and after an hour and a few minutes our garage door was better than new: opening quietly and truly gliding open and closed. Many Thanks!"
Carol D., Allen, TX
Serving these neighborhoods
Hamilton Hills
Quail Run
Stacey Ridge
Star Creek
Twin Creeks
We also repair garage doors and openers in the surrounding areas of Lucas, Parker and Wylie.
"Our garage door broke on a very cold day when we definitely wanted to get our cars in the garage. We called A1 Affordable around 5:00 pm and were pleasantly surprised when a technician came immediately. He said he was walking out the door when we called and he choose to come fix our problem before he went home. Within an hour he replaced the broken spring and had our door working again. We were so thankful for the service we received and would highly recommend A1 Affordable!"
Gail W., Allen, TX

"Please keep up the great work. We will never use any other garage door service! Thank you for providing quality service and repairs. It is refreshing to see that the "art of customer service" is a huge part of your company and how you do business."
Melissa M., Allen, TX
When your garage door breaks we will give you peace of mind knowing that one of our experienced Service Technicians will arrive at your home in Allen to help you out of a sticky situation even if it's at 11:00 pm at night with No additional fees or charges because garage doors never break between 8:00 am and 5:00 pm Monday – Friday!
Garage Door Service Near Allen TX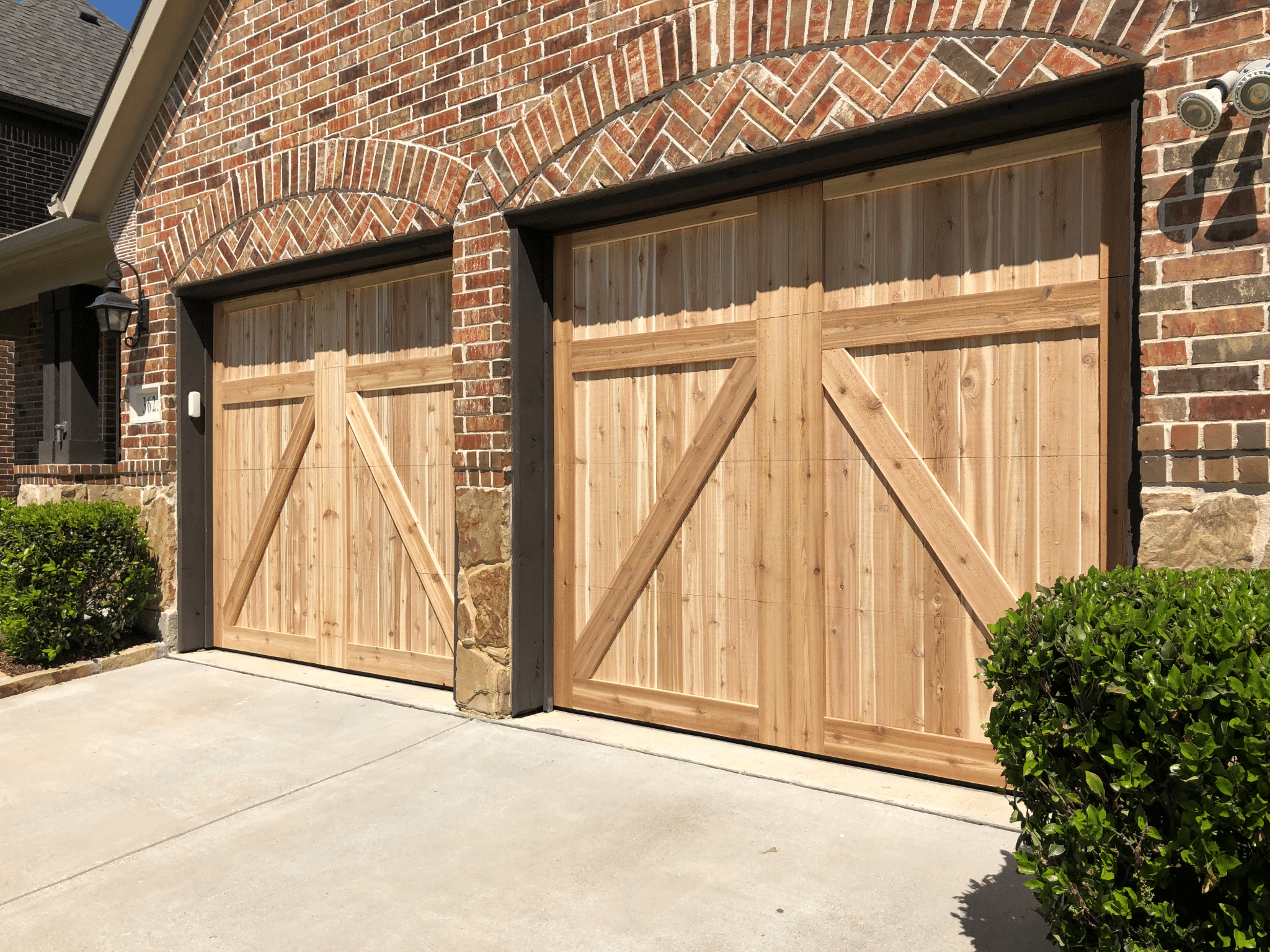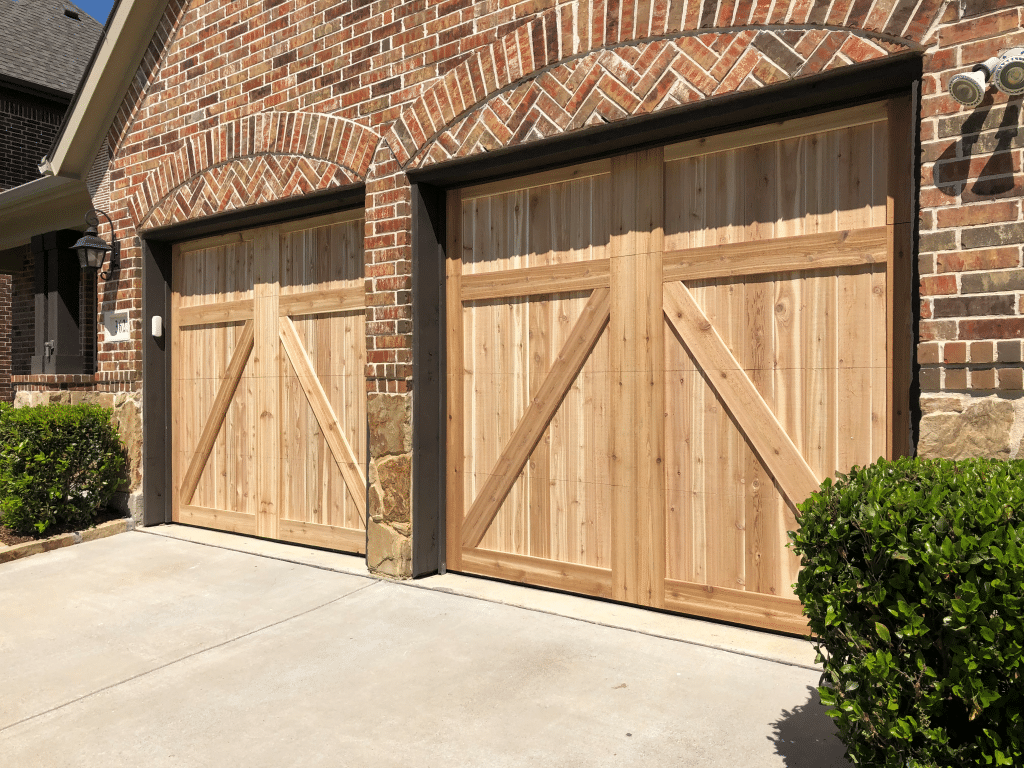 A garage door that stops working is a huge inconvenience and often an unexpected expense. We understand how important it is to get your malfunctioning garage door back to functioning properly as soon as possible. That is why at A1 Affordable Garage Door Repair we offer 24/7 assistance for those unexpected emergencies.
If you are in need of a garage door repair in Allen, TX, then you are at the right place. We provide reliable and efficient garage door service to Allen and all the surrounding cities. It is hard to find honest and dependable service that is why we stand committed to providing an A+ rating according to the Better Business Bureau. We are happy to provide experience garage door repair and service to the residential customers of Allen TX.
Garage Door Installation for Allen TX
Old and worn garage doors can lower the aesthetic appeal of your home and even lower you home value. It is especially important to replace your garage door if there is a safety risk. No matter if you are wanting a new garage door for safety reason or simply want a new aesthetic appeal for your home, we are happy to help you every step of the way.
At A1 affordable Garage Door, we have provided excellent new garage door installations services to the Allen area for many years. We can assist you in your search for new garage door options for your home to help you choose the perfect fit. We know it can be overwhelming with the many choices to choose from, so we are available to help you with any questions that you may have along the way. Feel free to give us a call to talk with one of our garage door professionals.
Whether you want the standard steel garage door or the stylish carriage house garage door, we have an excellent option for your Allen home. You can get a custom garage door if you can't find the perfect fit from the different types of garage doors that we provide. So let us know if there is a type of garage door installation that you have your heart set on and if there are any custom alterations that you are interested in.
The city of Allen is one of A1 Affordable Garage Door's service area for garage door repairs maintenance, and installations. We are a reliable garage door company in the Allen, TX. We can repair garage doors and garage door openers, replace broken garage door springs and cables, and offer new garage door installations. Whether you are in need of garage door maintenance, repair, or installation, we are ready to help you with all of your garage door problems in Allen, TX
Fixing the Garage Door
Or Garage Door Opener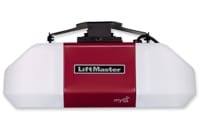 When you call A1 Affordable Garage Door Services our garage door repair Allen specialists will be happy to set an appointment for you at No Charge!
"I was pleasantly surprised at how easy the entire experience turned out to be. From the initial phone call to the office, to the follow up call the next day, to the technician that came out and performed the service, everyone was super friendly and professional. Garage service is one of those things that you associate with going to the dentist the first time. We've all heard the stories. I could have called one the "other" popular Garage Service companies but decided to give A1 a try and I am glad I did. The technician explained everything that needed to be done and were prompt and through. They even left me with some help advice and maintenance tips that could avoid any further issues. I will definitely recommend A1 Garage Service to others."
Ronald M., Allen, TX
Is it important for your family to have:
A service technician show up when they are scheduled to?
A 24/7 live garage door specialist helping you troubleshoot your garage door problem?
A Garage Door Service Company that follows the "Code of Conduct" in the industry?
A Garage Door Service Company that Guarantees your satisfaction?
If you answered Yes to any one of the questions above than call us now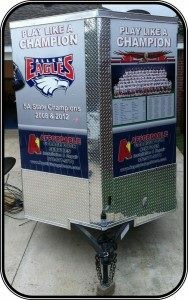 Allen Texas is a great place to live and A1 Affordable Garage Door Services has season tickets to the Allen Eagles Football Games. They even tailgate with there big trailer! The front of the trailer is all about Allen Eagles Football.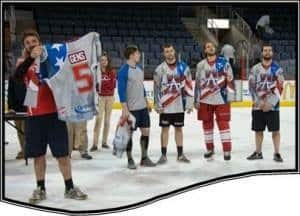 A1 is also huge fans of the Allen Americans Hockey Team. Sometimes after the games they have auctions of the jerseys to raise money for their team. So far they have bought five signed jerseys and proudly hang them in a sports room in Allen Texas!
DIY Garage Door Repair Parts Showroom
Our showroom is right down the road from Celebration Park in Allen, TX. Below is a google map to our Plano showroom.
Maybe you like to repair your own garage door and need a hinge or garage door opener remote. Not only can our garage door specialists teach you how to program a remote or keypad but they can also answer your questions on repair or replacement of a new garage door or garage door opener.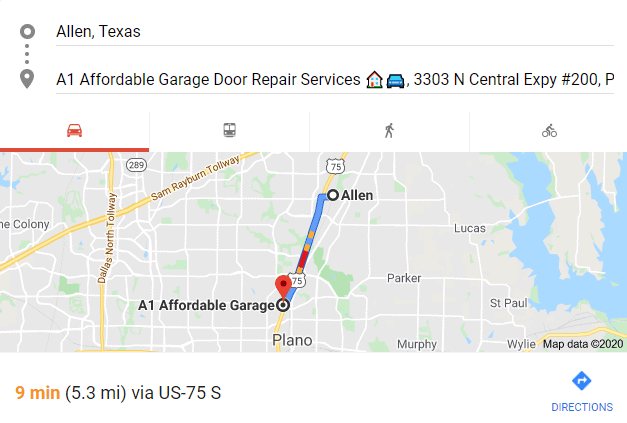 "I called A1 Affordable Garage Door Services at 5:30 am when my garage door was stuck two feet from closing. Because it was stuck, I wasn't able to close it manually. Being a widow, I was desperate to see a service technician. The dispatcher was professional and reassuring that I would get help soon. The technician arrived at 8:30 am as promised. He, too, was personable and knowledgeable about replacing a 25 year old garage door. He secured my garage door and scheduled an appointment for installing a new garage door the following afternoon at 1:00 pm. He described the technician who was to install the garage door so I knew who to expect.

The following day, the technician arrives at the appointed hour and began taking the old door down and getting the new one installed. He cleaned up after his work was completed. Needless to say, i was overwhelmed with everyone who represented your company. Your technicians are well trained and trust worthy. I have already told several friends about my positive experience. Thank you!"
Sharon M., Allen, TX

"We can't be happier with our experience with A1 Affordable. The technician arrived as we were told on Easter Sunday. We were very thankful to A1 Affordable for helping us when we needed it and doing such a thorough quality repair. They also followed up the next day. We fell as if they are family in such short amount of time and we will use them again."
Juli S., Allen, TX

"My husband was out of town. I felt comfortable and pleased with fast service and nice tech."
Patsy W., Allen, TX

"Very professional, showed up within an hour, No up sale and great service.
Scott R., Allen, TX
"My wife and I experienced a broken spring on our garage door on a Sunday that would not allow us to open the door and pull our cars outside. We needed to get a company to come out that day and replace the springs. We called A1 Affordable Garage Door Services in Plano and Kris was very helpful asking the right questions and giving us a quote to do the job on a Sunday. The technician arrived an hour after our call, right on the committed time frame and helped us move our cars out and replaced the springs and tested the garage door in less than 1 hour. He was very courteous and did a great job. We received a follow up call the next day to make sure the door was working properly. I highly recommend A1 if you need a garage repair."
Pat & Sally M., Allen, TX 6-26-20
Allen, TX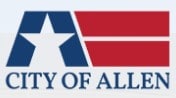 Thinking about moving to Allen? Everything you want to know about Allen is located on there website. Some of the notable people from Allen are Kyler Murray Heisman Trophy winner, Carly Patterson Olympic Gymnast, and Candy Kung Golfer. Learn more about Allen, TX on wikipedia.
Allen TX Neighborhoods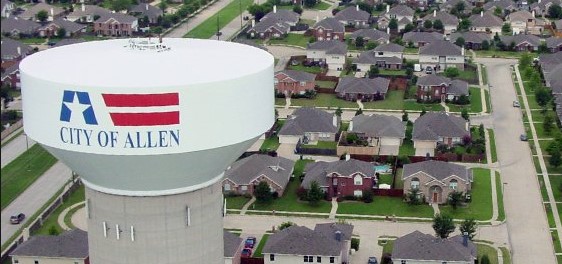 Hamilton Hills, Allen
Quail Run, Allen
Stacy Ridge Estates, Allen
Star Creek, Allen
Twin Creeks, Allen
Allen Texas Parks
With over 20 parks to choose from for family fun, entertaining, reservations and celebrations, a short list is below.
Bethany Lakes Park
Celebration Park
Watters Crossing Park
33.0997, -96.6631