"Click here for our Monthly Garage Door Repair Specials"
On-Time Garage Door Repair Appointments in Plano

Can be critical when a garage door falls off the tracks and is hanging over your car or you forgot to make sure the garage door was all the way open before you backed your car into it. It's very scary when that happens. We hope you never have to experience that scary moment but if you do, you can rely on A1 Affordable Garage Door Services to be there quickly or set an appointment to meet your needs. As a matter of fact, your neighbors called us when it happened to them.
" Your company was recommended by my Insurance company adjuster Ron Miears. As suggested I called and identified a date and time for a meeting. Incidentally the time and date was meet.
The technician was knowledgeable and polite. He identified the necessary repairs and identified the cost. The cost of repairs was Affordable and less than anticipated. When work was complete the overhead door worked better than before the accident. I would strongly recommend A1 Affordable Garage Door to friends and anyone who requested a recommendation for garage door repair."
Exceptionally Pleased,
Richard B., Plano, TX

"Just needed my garage door repaired and they came the same day! What I liked the most is they will fix your garage door problem in record time with quality of work."
Judy E., Plano, TX

"It's hard to find courteous people. You are very ethical as well. They will not attempt to sell what you don't need."
Aaron J., Plano, TX
Serving these Plano TX neighborhoods
Avignon, Plano
Kings Gate, Plano
Kings Ridge, Plano
Shoal Creek, Plano
White Rock Creek, Plano
We also repair garage doors and garage door openers in Richardson, Garland and McKinney.
"Supreme customer service! You were spot on in everything that matters – product knowledge, prices and customer service. Russell was Awesome! I will definitely recommend in future"
Sheryl F., Plano, TX

"I found your company on the internet – my door was off the track @ 1:00 am. I couldn't leave it like that overnight! I was so appreciative for your services so late @ night!"
Stacey F., Plano, TX

"I Love Your Company SO much. Will always call on A1!"
Sue C., Plano, TX

"I contacted A1 Affordable because the original company I called could not complete the job over the weekend (this was a Saturday) and I thought their price was too high. I was pleasantly surprised that your price was lower and you could make it out same day to do the install. The Tech was prompt, courteous and professional and quick!!! Will for sure use you again if needed."
Mary W., Plano, TX
When your garage door spring snapped or breaks we will give you peace of mind knowing that one of our experienced Service Technicians will arrive at your home in Plano to help you out of a sticky situation even if it's at 10:00 pm at night because a broken garage door or garage door off track never breaks Monday – Friday between 8:00 am and 5:00 pm!
Fixing the Garage Door Or Garage Door Opener

When you call A1 Affordable Garage Door Services our garage door repair Plano specialists will be happy to set an appointment for you at No Charge!
P.S. Saturday is a normal business day for our garage door service technicians.
"We had a great experience with A1 Affordable GDS. Scheduling was convenient to our needs. The technician was ready and prepared for any repair. The whole process was professional from start to finish. We would definitely recommend A1 Affordable GDS to our family and friends."
John P., Plano, TX

"I spoke with 3 office personnel related to my transaction. Each was pleasant to talk to and what they told me would happen, did in fact happen. The tech was knowledgeable and very personable. As I was told, he inspected my situation first, then quoted a price. His work was done very quickly and the price did not change.
I would use this company again in a heartbeat and would recommend anyone else as well."
Gregg B., Plano, TX
Is it important for your family to have:
A service technician show up when they are scheduled to?
A 24/7 live garage door specialist helping you troubleshoot your garage door problem?
A Garage Door Service Company that follows the "Code of Conduct" in the industry?
A Garage Door Service Company that Guarantees your satisfaction?
If you answered Yes to any one of the questions above than call us now

DIY Garage Door Repair Parts
A1 Garage Door showroom is on the North West Corner off Highway 75 and Parker Road. (In between Burlington Coat Factory and HobbyTown). Below is a google map to our Plano showroom. We are your local garage door repair and gate operator repair company.

Maybe you like to repair your own garage door and need a hinge or garage door opener remote. Garage door support struts are always in stock for repairs. Not only can our garage door specialists teach you how to program a remote or keypad but they can also answer your questions on repair or replacement of a new garage door or garage door opener.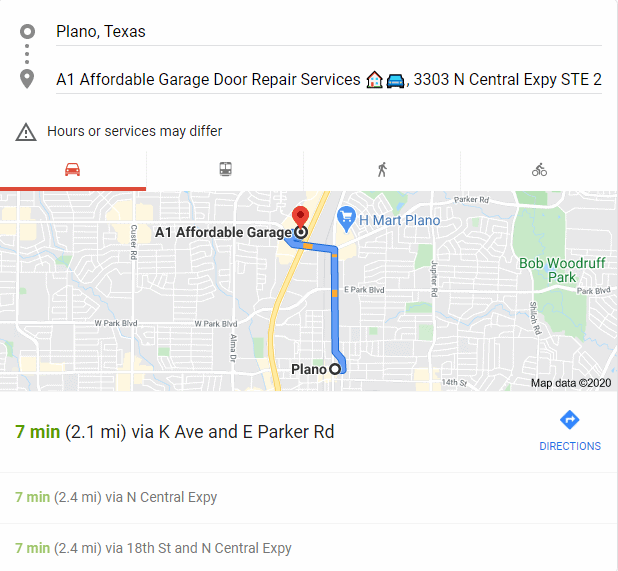 I was impressed by the quality and promptness of service. The installation technician was very knowledgeable about his work and my house structure. I'm very pleased with the end product.
Ramiro G., Plano, TX
" When I called, the office said someone would be here within the hour. Guess what! The technician was here within an hour! Checked the situation. Provided my options and began replacing the garage door opener. He was finished installing within an hour and explained all of the operations. Kudos to your service technician. Thanks for the good and effiecient service. You will be the people I call for any problems in the future!"
Barbara M., Plano, TX

"Service was expensive. The cost of changing a belt was half the price of a new unit. That does not make sense. The job was done quickly and professionally."
Kamran E., Plano, TX

"Couldn't be more satisfied & relieved to know any future issues can be quickly resolved."
Melanie A., Plano, TX

"The work was performed with a very professional manner. The technician was excellent. Just keep doing the great job!"
Dan B., Plano, TX

"A1 Affordable Garage Door Services are a great company to get service from. Their knowledge and fast work is fantastic. Their technician know exactly what they are doing and fixed exactly what was wrong with our garage door quickly. We will be returning customers! Thank you!"
Barry N., Plano, TX

"I contacted A1 Affordable because the original company I called could not complete the job over the weekend (this was a Saturday) and I thought their price was too high. I was pleasantly surprised that your price was lower and you could make it out same day to do the install. The Tech was prompt, courteous and professional and quick!!! Will for sure use you again if needed."
Mary W., Plano, TX

"Making the appointment was so easy. The specialist called to say he could be early. The weather stripping around the garage door needed replacing. He was quick, explaining everything to me. I asked him about garage keypads and he had one on the truck which he also installed the same visit. He was very pleasant and professional. It was a great experience. I would recommend A1-Affordable to all."
Connie M., Plano, TX

"The repairman inspected the broken door and explained the repairs needed and what the full price was. Even tho he did extra work, the price didn't change. Fast, courteous, friendly service."
Steven J., Plano, TX

"Great job! They respond very late at night and I like your people."
Howard M., Plano, TX

"I called A1 to install a new garage door. They responded promptly, came to my home, explained my options and scheduled a date and time to replace the door. I received a call on the day that the technician would be at my house and was told he would arrive within 15 minutes. The installation went very smoothly and I really like the new door. The technician was courteous, professional and did a very good job with the installation. I would highly recommend A1 to any one who needs service on their garage door."
Nolan K., Plano, TX

"Great guy, fast service, friendly & efficient. Will use again if needed."
Henry R., Plano, TX

"I am very happy with the work. Well done. The technician was so nice and communicative with me. Last company which I used, I had to call them 3 times but never got the problem solved… 🙁 I, my husband are so pleased with the new door opener and he recommended the right one for us. Thanks!"
Mi L., Plano, TX

"The technicians were very knowledgeable, took the time to explain and very quick. The cost was very affordable."
Bethany L., Plano, TX
Plano Chamber of Commerce
A1 Affordable Garage Door Services is very involved with the Plano Chamber of Commerce and has been a member since 2008.
Plano, Texas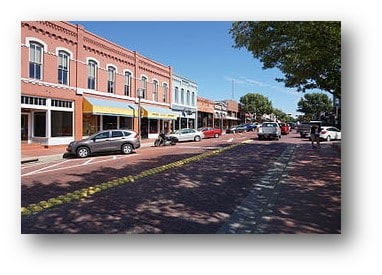 Did you know that Plano Texas has a nickname? It is "The Gymnastics Capital of the World."

Plano has so much to offer and do for fun and entertainment. Legacy West and Shops of Legacy are very popular for restaurants, shopping and live entertainment. There is always something going on.
Plano Parks and Recreation
There are five recreation centers for family fun, outdoor pools for the Hot summer months and lots of parks for family picnics. Don't forget the family pet, Plano has a pet friendly dog park, The Dog Park at Jack Carter Park. Find out where they are here.
"The office was quick and helpful. Repairman was very helpful and took the initiative to fix the bolts at the top holding the motor and then tighten them."
Tara P., Plano, TX