If properly maintained garage doors typically last for decades but like everything else eventually require repair or replacement. It's important to be able to identify the signs that your garage door needs attention.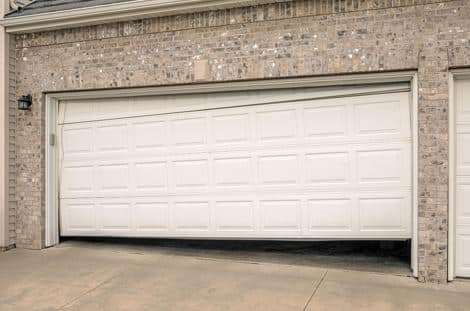 Garage Door Signs of Maybe Needing a Replacement: 
Vehicle Collision: Small dents can generally be repaired without replacement but usually a vehicle collision results in more damage than just a small dent. If you have a large dent in your garage door, you probably will need to have it replaced with a new one.
Curb Appeal: Garage doors top the list with highest curb appeal. If you are considering selling your home or just want to add character, a new garage door like most upgrades will increase your home's value and add curb appeal.
End of Lifespan: With the right maintenance, the average lifespan of a garage door is between 15 to 30 years. Sometimes it's difficult to determine whether your garage door has reached the end of its lifespan and needs to be replaced. Here are some signs to look for:
The Garage Door is not functioning properly and is noisy or slow to open or close.
Look for dents, rusted or broken parts.
The door is cracked, peeling, warped or damaged.
The door sags.
Garage Door Signs of Maybe Needing a Repair:
Damaged Springs or Motor: Noise while opening and closing the door is likely a sign of needing repair. If you are operating your garage door and getting an unusual sound, you likely need to have your garage door repaired. The sound could be resulting from damaged springs that may need lubrication or a damaged motor that needs to be either replaced or adjusted.
Off the Tracks or Faulty Wiring: If your garage door fails to move up and down like usual this is a good indication it requires some sort of repair. It could point to a faulty connection with the wiring, or the door is off its track. Also make sure to check if something is blocking its way. It's best to call a garage door expert for repairs.
Whether you need a garage door replacement or repair, call us today at A1 Affordable Garage Door Repair Services and let us help with the best choice for you. Serving Plano and Surrouding areas like Frisco, Allen, Addison and more.