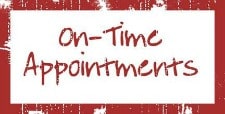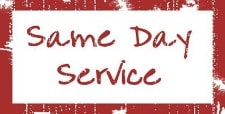 **During COVID-19 we are No longer offering Free Estimates for your safety as well as our service technicians. Thank you for understanding.
Offers Quality In Home Garage Door Repair
Free Estimates – Call 972-877-5774 Now
COVID-19 Current Information on How We Are Helping Our Customers
Prompt, courteous, and professionally trained uniformed garage door repair in Addison service technicians who are bonded and insured.
Our technicians are some of the best garage door professionals you'll come across and can repair better than new..
We offer same-day service for repairs in Addison, Dallas, Carrollton and surrounding cities on broken garage door springs, doors, cables and openers.
We always provide on-time repair or replacement appointments.
When you call to schedule a garage door spring repair appointment to the time our garage door service technician drives away from your home in Addison, you'll be treated with respect and professionalism. Our professional customer service department guarantees our customers will always receive the timely, professional service you deserve with all your needs for garage door repair Addison.
"They were responsive in getting issue resolved, which at this day and age is SO refreshing!
I WILL be giving A1 any future business and refer all friends to A1.
Thank you!
Janice A., Addison, TX
Call Now to get your Garage Door Repaired Today!

Our knowledgeable garage door specialists are ready to assist you in updating the look of your garage door and ultimately your home with beautiful yet affordable garage doors.
No-pressure garage door specialist – makes shopping for your garage door an enjoyable and educational experience at your home in Addison or at our Plano Showroom.
Vast selection of garage doors and features – makes shopping for your new garage door an event, not a chore.
Ask your highly-trained garage door service technician about safety and maintenance.
Your garage door is the largest moving wall in your home. When not cared for properly or operated safely, your garage door can be as dangerous as the cars it protects.
A1 Affordable Garage Door Repair Service customers are important to us. It is our pleasure to help you and your family with proper garage door operating techniques, learning how to re-align your garage door opener sensors and how to perform proper maintenance on the garage door and opener before another repair is needed.
Garage Door Services in Addison
At A1 Affordable Garage Door Services, we offer garage door services that go way beyond a basic repair. We offer garage door maintenance, installation, repairs, and residential garage doors. We repair and service all major brands of garage doors.

Types of Garage Door Installation
We know that when it comes to getting a new garage door installation, people are going to prefer a specific type and style of garage door for their house. That is why we provide you with a variety of garage door options to choose from to add to the style of your Addison home.
At A1 Affordable Garage Doors in Plano, we have a wide collection of garage doors that you are sure to find the perfect one for your home. Whether you want a wooden garage, carriage house garage, or classic steel garage, we have several options that will pair with the exterior aesthetics of your house. If you want a custom garage door, we are happy to help you find the perfect match!
Emergency Garage Door Repair in Addison
Needing immediate assistance with a garage door problem in Addison, give us a call. Our garage door repair specialists are here waiting to help with any repairs, services, or installation you may require. Call our garage door experts today at 972-877-5774 and we will promptly come out to your home in Addison to service your garage door. We provide same-day service on broken garage door springs, doors, cables, and openers. Our certified technicians are licensed, bonded, and insured and ready to service your garage door 24/7.

Garage Door Maintenance in Addison
Out of all equipment used by homeowners, the garage door would be ranked as one of the most used. Usually, it is used several times a day, at least twice if you leave and return to your house from work. Garage door maintenance is a must as a homeowner, even if it is a brand-new garage door. Maintenance can prevent your garage door from malfunctions, especially if it is an issue that is possible to catch early.
Our technicians at A1 Affordable Garage Doors are trained to handle minor to major garage door repairs. If you ever experience a garage door emergency, we will be there for you to address the problem—no matter what day or holiday is it. Garage door problems can happen when it's least expected. We are proud to offer emergency repair service 24/7 because we know how much of an inconvenience it is to have a stuck, malfunctioning garage door.
Squeaky or Rough Garage Doors: Garage doors function properly with lubrication. Though lubrication is such a simple thing, without it garage doors would fail. If you notice that your garage door is noisy or not operating properly, your garage door part may need fresh lubrication. Garage door maintenance comes in handy for this issue, since you may not know what needs to be lubricated or what kind of lubrication to use..
Frayed Garage Door Cables: Even the slightest frayed cable needs to be addressed as soon as possible. A frayed cable compromises its strength and effectiveness, so for you and the safety of others don't delay on getting your garage door cables replaced when they show signs of damage and wear.
Dirty Garage Door Tracks: The tracks of your garage door should be free of debris and excessive grime. When the tracks are dirty or bent it can cause the garage door to not operate properly or to come off track.
Malfunctioning Garage Door Sensors: The sensors located at the bottom of either side of your garage door gives a signal if it is safe for your garage door to close. Over time, the sensors can accumulate dirt and affect their function. They can even become misaligned if they are accidentally bumped into and cause them to not work.
Faulty Garage Door Spring: The springs are responsible for the weight and tension of your garage door. Faulty garage door springs is a common problem, but a dangerous one that must be addressed by a garage door technician. This issue is hard to prevent if you don't know what to look for. A garage door professional has the eyes for all garage door issues, so regular garage door maintenance is important when it comes to the overall function and safety of your garage door.
Garage Door Openers
Authorized LiftMaster Dealer – LiftMaster® manufactures a variety of drive systems to meet your specific needs. Whether you choose the belt or chain drive opener, you can be confident that it is produced with precision, backed by the world's largest manufacturer of garage door openers.
Our Service Technicians are also available to repair or replace the garage door opener in your home.
18 minutes from Addison is where our Plano Showroom is located. See the google map below for directions to our showroom.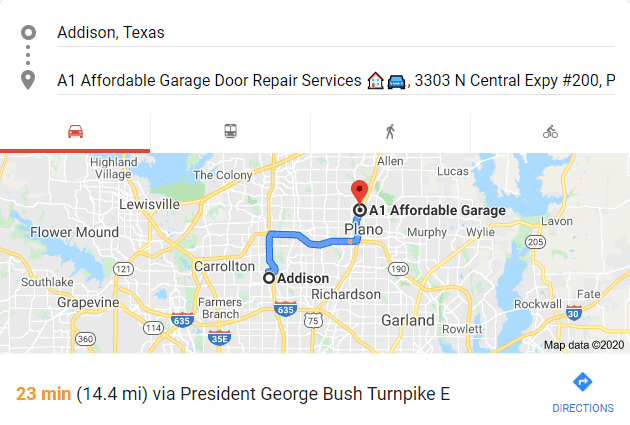 New Garage Door Installation in Addison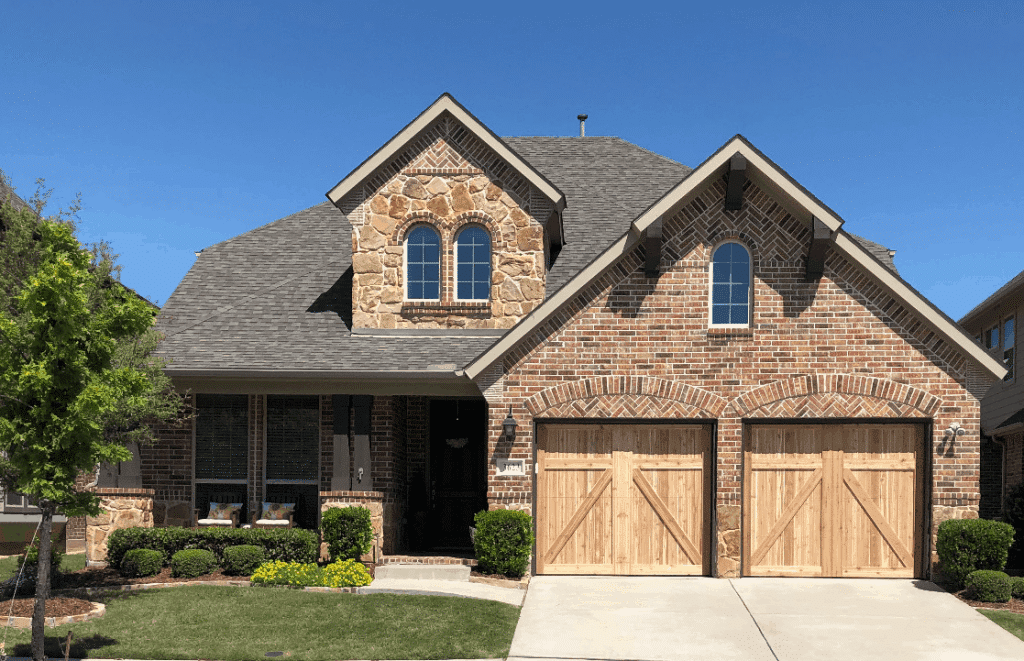 At A1 Affordable Garage Door Services, we understand that no two homes are alike and with that in mind we offer a variety of design options for you to choose from that will perfectly match your home. We offer a dependable and long-lasting product that not only enhances your home's design but also your home's curb appeal.
Call us today at A1 Affordable Garage Door Services in Addison with any garage door questions or concerns and let's get started in solving your garage door issues today.
Addison Neighborhoods We Have Worked In
Waterford Neighborhood, Addison
Far North Dallas, Addison
Grand Addison, Addison
Midway Meadows, Addison
What to do in Addison Texas
Addison is the "Fun and Entertainment" area of North Dallas. Living in Addison you'll find great food, fun entertainment. Addison is known as "The Restaurant Capital of the US". Here is a link to Addison Circle Park where many events happen year around. Addison has many restaurants for a variety of tastes. If eating is not what your looking for then Addison has a variety of special events to attend such as Addison Kaboom Town, Addison Oktoberfest, Taste Addison and so much more.
The City of Addison, Texas
The city of Addison was incorporated on June 15, 1953, and is in the northern part of Dallas Country. In 1982 the city of Addison was changed to the "Town of Addison" and its first mayor was N. W. Morris. Most cities allow you to choose a home, but the city of Addison offers you a chance to choose a lifestyle. Looking for a quiet single-family community or a blend of apartment living and townhomes. Well, Addison offers you both along with upscale luxury living. It's loaded with shopping and entertainment venues and is home to the Cavanaugh Flight Museum which is the largest collection of flying warbirds in the Southwest. Addison will not let you down when it comes to partying. Known for its upscale restaurants and many entertainment venues, the town is alive and vibrant. Whether the appeal of shopping, dining out, or beautiful landscape areas, The Town of Addison is a popular destination for many.