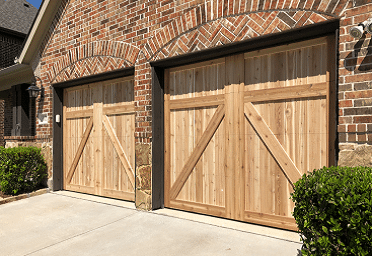 A large portion of your home's exterior design can be your garage door. You can easily transform the appearance and improve the curb appeal of your home with a new garage door. Let's look at some design options that can enhance the appearance of your home.
Carriage Style Garage Doors:  Carriage Style garage doors open and close by swinging in and out of the doorway.  They remain a popular design, especially for luxury homes.  Carriage style garage doors complement a variety of home styles.  They have elegant patterns options that work beautifully with modern homes also.  Tudor style houses are perfect for carriage style garage doors because the iron handles and hinges give them a vintage look.  These garage doors are available in different colors and panel options.
Modern Style Garage Doors:  Modern Style garage doors can complement your home's aesthetic with their stylish features.  They use simple details and clean lines that blend well with contemporary homes.  These door types are absent of elaborate details and embellishments.  Modern style garage doors come with stunning finishes with the benefit of customizing glass treatments and color options.    
Tradition Style Garage Doors: Homeowners typically choose a traditional garage door style for a classic timeless look. Traditional Garage doors typically feature customized raised rectangular panels. These panels come in a wide variety of panel styles which the buyer can choose from. The traditional style garage door is compatible with a variety of home styles and comes at an affordable price.
Customized Garage Doors:  Elevate your home's style with a customized garage door.  The garage door types listed above can be easily customized by adding unique features, hardware, and windows to make the doors more appealing.  Adding the same type of window or hardware that is already part of your house will make your garage door more customized to fit your home's design. 
A1 Affordable Garage Door Repair can repair your garage door problems, replace your garage door or install a custom garage door. We service most of the Dallas  and surrounding areas like Frisco, Little Elm, McKinney, Melissa, Murphy, Plano and more!