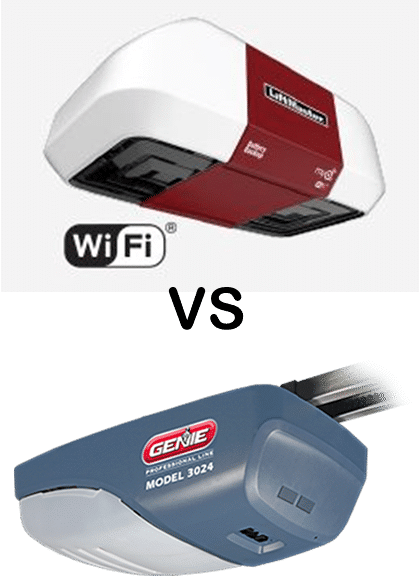 When it comes to making a long-term decision about which new garage door opener to get, knowing the best products that are available is very important. Both Genie and LiftMaster garage door openers are companies that have been around for over 40 years, and their longevity in the market is proof that their reliability with customers is outstanding.
When deciding between the two, you must first decide what kind of opener, and at what price, works best for you. Genies reputation as the industry-leader really comes from their past models — those being the ones from the early to late '90's. These were great openers, many of which are still in garages today. However, after a company buy-out (Overhead bought Genie in 2002) the quality of Genie products has been in sharp decline.
Modern day Genies gargage door opners are less expensive than their predecessors, but the overall quality, noise-level, and life of their new products are not what they used to be.

Enter, LiftMaster. LiftMaster has seen it's garage openers go from good, to better, to best over the last 10 years. As Genies products have gotten cheaper in quality, LiftMaster has improved. With their new 8550W Belt Drive, LiftMaster can claim that they have the best opener on the market today. It's whisper-quiet operation, durability, and built in features like battery back-ups and wi-fi, make LiftMaster the easy choice for almost any consumer.
Genies' similar product, the 3024 belt drive, is similar in quietness. However this does not come with the same quality motor that LiftMaster has. Also, the Genie 3024, does not have built-in WI-FI capabilities, or a battery back-up system. Both of which place their model behind it's competition.
Whether you are a do-it-yourselfer or are looking for a professionally installed garage door opener, the best use for your money, both in the short-term and the long-term, is going to be LiftMaster. The professional line of garage door openers.
There are many additional accessories to add to a garage door opener like outside keypad. If your trapped inside your garage, learn how to get out quickly. A1 Afforadable Garage Door Repair services Plano and Surrounding areas like Addison, Carrollton, McKinney and more.