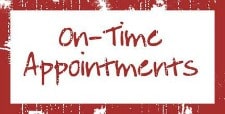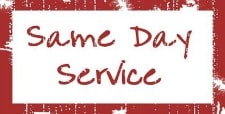 We offer Professional Garage Door Repair Services in Carrollton, Texas
An efficient garage door can be taken for granted. Many people don't think about the garage door often – until it becomes worn-down, noisy, or breaks. In addition, finding a professional and affordable garage door repair service can be challenging.
A1 Affordable Garage Door Repair Services – locally owned and operated – is dedicated to professional service and customer satisfaction. With our Garage Door Repair Services, your needs are a priority. From repairs, to installation and tune-up inspections, we can service all your garage door repair needs.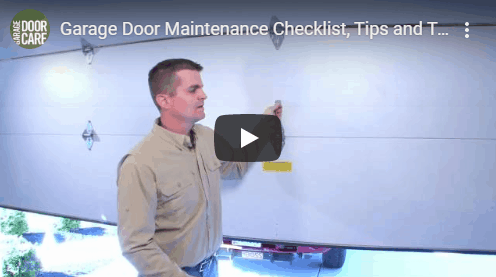 Our uniformed garage door technicians are not only bonded and insured, but prompt and professional who are employees NOT Sub-Contractors
Same-day service at a time that is convenient for your schedule not ours.
On-time appointments, we understand your time is very valuable.
Emergencies Happen in Carrollton everyday! Call Now to have your garage door or opener repair service at your door within the hour. Never leave your garage door open and unsecured.
Garage Door – How do I know I need a Garage Door Repair?
How do you know if you need Garage Door Repair Services in Carrollton? Once your garage door system seems worn-down or inefficient, you should get it serviced or repaired right away. A garage door that's not working properly can be very dangerous.
For many, safety is a priority – especially with children around. Proper maintenance of your garage door will help you to keep your garage door operating efficiently and maintain a safe environment around the garage. Many people don't realize that like their automobile, they should schedule regular maintenance of their garage door and garage door opener to keep it in pristine working order.
"I called A1 Affordable GDS on Sunday afternoon after I tried to install my garage door opener. To my surprise I spoke with a live person who provided a very reasonable quote and was able to make an appointment the following day. Two gentlemen showed at my door promptly at the scheduled time. There was no waiting or calling dispatch like their is with other companies. The installers worked quickly and diligently and were done in about 45 minutes. Had I done the project myself, I am sure it would have taken me six hours or longer.

I am extremely satisfied with the entire experience and would highly recommend using A1 Affordable GDS to anyone!!"
Edward H., Carrollton, TX

As an Authorized Dealer of LiftMaster® Garage Door Openers, A1 Affordable Garage Door Services wants to offer you only the best in garage door drive systems. Whatever drive system you choose, chain, belt, screwdrive or wall mount, you can rest assured knowing that it is produced and guaranteed by the world's largest manufacturer of garage door openers.
Garage Door Opener
With openers that are durable and whisper-quiet, you have many options available to you. From battery back-ups for garage door operation during a power-outage to WiFi Ready with a posilock secure system that work hard to prevent home intrusion, the LiftMaster® garage door drive systems offer many options to cover all of your needs.
For your garage door repair needs, you can turn to us with confidence. With many models and makes to choose from, our garage door specialist can help you make a decision in your best interest. Want something strong but with the look of real wood? We have many garage door designs that are durable and attractive.
Custom Real Wood Garage Doors
If you like real wood, then check out our custom-made cedar wood garage doors. Made with durable genuine cedar, these garage doors are beautifully hand-crafted with many different styles to choose from. If you are still unsure, allow our friendly garage door specialists to assist you in your decision. Stop by our Plano Garage Door Showroom to see all the garage door samples
Whatever your needs, you can know with confidence that A1 Affordable Garage Door Services will keep your interests a priority.
"Friendly service, the dispatcher was very friendly. Dan the tech was early and finished the repair before he was actually supposed to be at our house! Great Service. Will definitely call you all again."
Austin J., Carrollton, TX

"Came out quickly and was a great experience. I am a Real Estate Agent so I will definitely refer you guys out to all my clients!"
Kim G., Carrollton, TX

"The office personnel were friendly and was able to schedule me the same day. I will use this company in the future and recommend them to my friends and neighbors (including our neighborhood website "Next Door".
Ronald T., Carrollton, TX
"Click here for our Monthly Garage Door Repair Specials"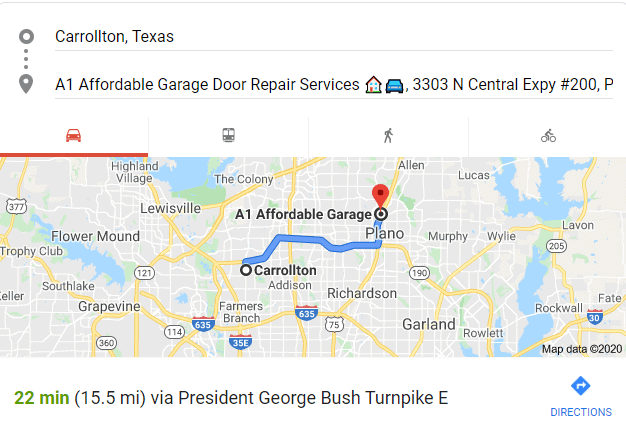 Carrollton is less than 30 minutes away from our garage door showroom. We carry many different garage door opener remotes, garage door struts and some replacement parts to repair your garage door or garage door opener. Call for availability and hours our Plano Garage Door Showroom is open.
Carrollton, Texas
If your thinking of living in Carrollton we have included a link for easy access to learn more about the city. Carrollton TX is a family friendly city always offering special events. Do you love animals why don't you attend a pooch pool party or go to Carrollton 5K Trails event If your a history buff, The English colony, a group of families in the northeastern area of settlement which crossed into Denton County, was home to large landowners including the Furneaux, Jackson, Morgan, and Rowe families. It is most likely that Carrollton TX was named for Carrollton, Illinois, the original home of many of these settlers. To learn more about Carrollton we have included a link
"I got appointment with A1 Affordable Garage Door Services very quickly. The technician was on time and very pleasant. He was very thorough and finished work efficiently. He explained to me what he did and gave his recommendations.

"I would definitely recommend A1 Affordable Garage Door Services to my friends. They are very professional."
Prafulla D., Carrollton, TX

"I called 3 garage door vendors when my 10 year old unit stopped working. A1 was the only one that would give me a ballpark estimate on the phone and no service fee charge for coming out. How refreshing! The guys came out and figured out the plastic parts were worn out explained what to do and what options were. I choose to go to Home Depot and purchase the recommendation and then they came back out the next day. They worked around my packed garage. Excellent experience beginning to end!
KathyJo L., Carrollton, TX
32.9900, -96.8933