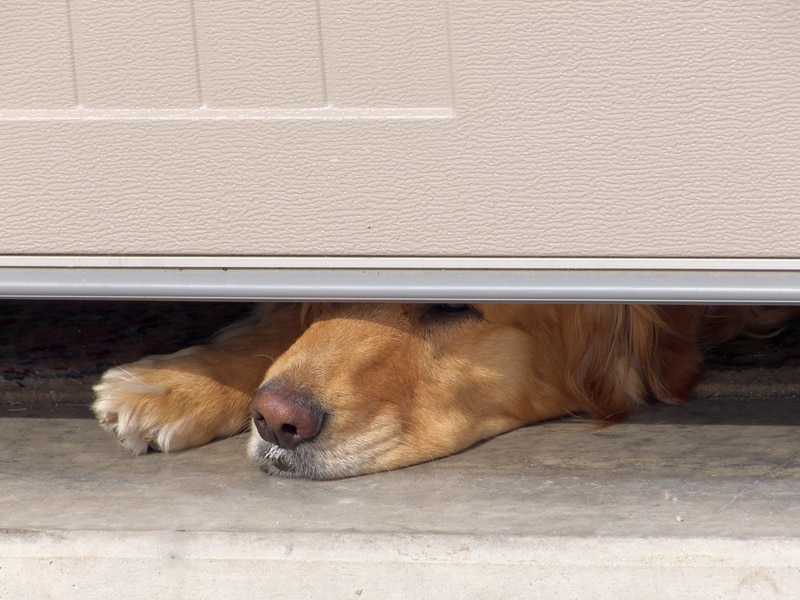 Garage door safety guidelines are important for the whole family, including family pets. Garage doors are powerful machinery and should be operated with safety guidelines in mind. Here are some safety guidelines for pet owners with garage doors:
Never Allow Your Pet to Go Under a Moving Garage Door—
A garage door is very heavy and it is not worth it for you or your pet to go underneath it while it is moving. Humans and animals should never go under a moving garage door! Make sure you and your pet wait for the garage door to completely stop before entering or exiting. This guideline should be applied to all your family members and guest.
Avoid Leaving Your Garage Door Cracked for Your Pet—
This is a very common habit, but it is best to avoid leaving your garage door cracked for your pets to freely roam in and out. Just like you should never go under an open garage door, your pets should never go under a propped garage door.
Most residential garage doors work with a spring system, but over time the tension of the spring can wear out. This habit could result in a major injury or even be fatal. So, if the garage door is the best entry/exit for your home, consider getting a pet door installed on your garage door. Pet doors are safe and eliminate the risks of the garage door slamming shut from worn springs.
Give Rules and Boundaries for Your Pets in Your Garage—
Having a pet is like another child, you have to have set rules and boundaries for what you will and will not allow. Never allow them to chew on the garage door cables. Garage door cables are under extreme tension and could snap and injure your pet in the process of chewing on them. If your pet struggles with this, don't allow your pet in your garage without supervision and provide them with many chew toys.
Keep Up with Regular Garage Door Maintenance for Your and Your Pets Safety—
Regular garage door maintenance is just as important as all of these guidelines, if not the most important. If your garage door is malfunctioning, there is an increased risk of your garage door causing injury or damage. A garage door should receive regular maintenance to ensure they are working properly.
If your garage door needs maintenance, you can trust us at A1 Affordable Garage Doors to ensure the safety of your garage door. Serving Dallas and surrounding areas like McKinney, Frisco, Addison and more.