We offer Professional Garage Door Repair Services in Lucas, Texas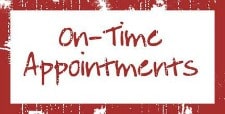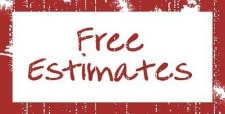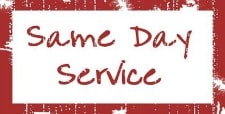 "Click here for our Garage Door Internet Specials"
On-Time Garage Door Repair Appointments in Lucas

Can be critical when a garage door falls off the tracks and is hanging over your car or you forgot to make sure the garage door was all the way open before you backed your car into it. It's very scary when that happens. We hope you never have to experience that scary moment but if you do, you can rely on A1 Affordable Garage Door Services to be there within the hour or set an appointment to meet your needs. As a matter of fact, your neighbors called us when it happened to them.
Serving these Lucas TX neighborhoods
Bristol Park, Lucas
Creekside Estates, Lucas
Estates of Camden, Lucas
Rockland Farms, Lucas
Saddlebrook Estates, Lucas
Wolf Creek, Lucas
We fix overhead doors in Lucas and surrounding areas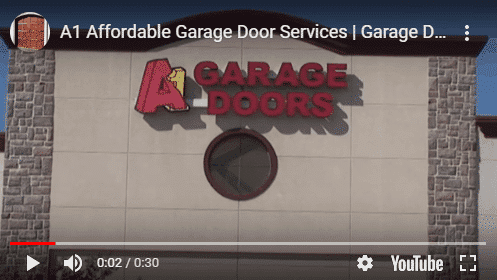 24 Hour Garage Door Repair Service Lucas TX
When your garage door spring snapped or breaks we will give you peace of mind knowing that one of our experienced Service Technicians will arrive at your home in Lucas to help you out of a sticky situation even if it's at 11:00 pm at night because garage doors never break Monday – Friday between 8:00 am and 5:00 pm!
Free Estimates On Fixing the Garage Door / Replacing Your Garage Door
Or Garage Door Opener
There are many garage door companies out there that will charge a service call fee anywhere from $39 all the way up to $129 just to give you an estimate for a repair or replacement! In addition to the service call fees, they will add on the charge of repairing your garage door. When you call A1 Affordable Garage Door Services our garage door repair Lucas specialists will be happy to set an appointment for you at No Charge! Always a Free Estimate during regular business hours.
Affordable Garage Door Repair Lucas TX
Is it important for your family to have:
A Free Estimate for your garage door repair in Lucas?
A service technician show up when they are scheduled to?
A 24/7 live garage door specialist helping you troubleshoot your garage door problem?
A Garage Door Service Company that follows the "Code of Conduct" in the industry?
A Garage Door Service Company that Guarantees your satisfaction?
Is an Authorized Dealer of LiftMaster® Garage Door Openers
If you answered Yes to any one of the questions above than call us now

Emergencies Happen in Lucas everyday! Call Now to have your garage door or opener repair service at your door within the hour. Never leave your garage door open and unsecured.
A1 Affordable Garage Door Repair Services – locally owned and operated – is dedicated to professional service and customer satisfaction. With our Garage Door Repair Services, your needs are a priority. From repairs, to installation and tune-up inspections, we can service all your garage door repair needs.
Garage Door Repair Lucas
Is Affordable and Professional
Whatever your needs, you can know with confidence that A1 Affordable Garage Door Services will keep your interests a priority.
"Click here for our Monthly Internet Specials"
A1 Affordable Garage Repair showroom is located west of Lucas, TX. Below is a google map to our Plano showroom. Our showroom has many parts available for the DIY repair person.
Garage Door Repair Parts Showroom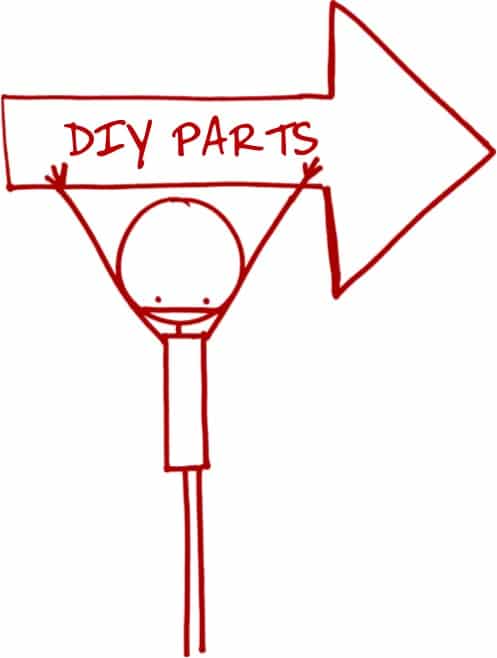 A1 Garage Door showroom is on the North West Corner off Highway 75 and Parker Road. (In between Burlington Coat Factory and HobbyTown). Below is a google map to our Plano showroom. We are your local garage door repair and gate operator repair company.

Maybe you like to repair your own garage door and need a hinge or garage door opener remote. Garage door support struts are always in stock for repairs. Not only can our garage door specialists teach you how to program a remote or keypad but they can also answer your questions on repair or replacement of a new garage door or garage door opener.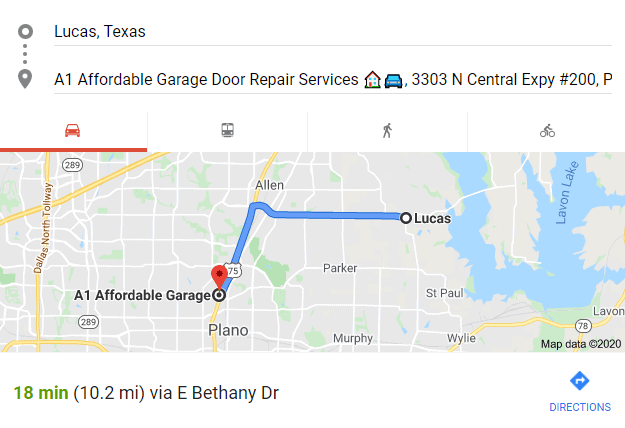 32.9900, -96.8933