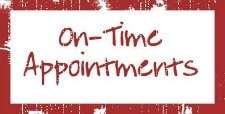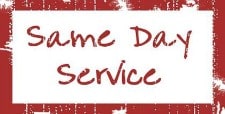 "Click here for our Monthly Internet Specials"
A properly working garage door can often be taken for granted. It's when the garage door breaks or becomes suddenly inefficient that most people realize how important a perfectly working one can be. In addition, you may feel lost when knowing who to call for a trusted garage door repair service.

With the hectic pace in which most people live, the garage door is operated often. Many people don't realize that their garage door needs annual maintenance by a trustworthy garage door service company. You service your car on a regular basis to keep it operating efficiently – why not your garage door? By scheduling annual inspections, you can rest easy knowing your garage door is safe and in good working order.
On-Time appointments scheduled at your convenience
24/7 Emergency Service
Monday thru Saturday appointments available (Sunday appointments for emergencies)
Locally-owned and operated, A1 Affordable Garage Door Services is dedicated to providing the highest level of customer care and professionalism to the homeowner. We know you may be unsure of the type of garage door service you may need. Our garage door service technicians are professionally trained and prepared to answer all of your questions to help you in your search for a high-quality repair or replacement.
From repairs and replacement to installation and tune-up inspections, our garage door repair service can offer many options to the homeowner. Garage doors that become worn down and inefficient can also become hazardous – especially if you have children.
"Called at 6:30 pm and tech was here that evening. Took the time to explain everything and tips on maintaining door to improve life (even though it was 9 pm)."
Eric K., Lewisville, TX

"It works great and fixed our garage to make it operable again when the spring broke. I would have appreciated initially – that the cost could have possibly been a wider range than what was provided. We really liked the knowledge and thoroughness of the technicians."
Lance H., Lewisville, TX
Serving these neighborhoods
Castle Hills, Lewisville
Highpoint Oaks, Lewisville
Valley Parkway, Lewisville
Valley Ridge, Lewisville
Vista Ridge, Lewisville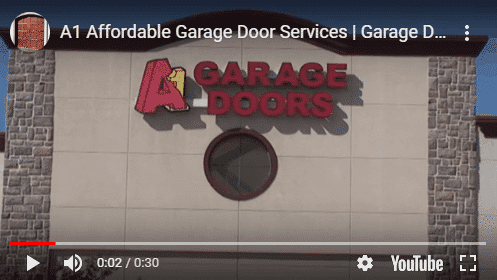 Offering Same Day Garage Door Service
When your garage door breaks we will give you peace of mind knowing that one of our experienced Service Technicians will arrive at your home to help you out of a sticky situation even if it's at 11:00 pm at night with No additional fees or charges because garage doors never break between 8:00 am and 5:00 pm Monday – Friday!
Dependable Garage Door Repair Lewisville
Offering Same Day Service
A1 Affordable Garage Door Services is an Authorized LiftMaster® Dealer – the world's largest manufacturer of garage door openers. Very few garage door companies can say that in the Dallas/Ft Worth MetroPlex.  Why would you trust just anyone to install a LiftMaster® garage door opener? Our highly trained service technicians will be happy to assist you with choosing the model that will fit your needs. There are a variety of options to choose from and we help the homeowner understands the benefits of the options available for garage door openers.
If security is top priority, check out our models that offer PosilockTM– a feature that securely locks your garage door every time it closes – and prevents it from being forced open. We also offer powerful models for a heavy garage door – never sacrificing quiet operation. Whatever drive system you choose, you can rest easy knowing your service and installation is guaranteed.
If you're interested in a new garage door, look no further. Our Amarr garage doors are high-quality and attractive, and available in numerous colors. Made with steel, these garage doors are durable and made to last. We also offer custom cedar wood garage doors, made with 100% cedar wood and hand-crafted with the highest quality materials available.
Remember, at A1 Affordable Garage Door Services, you can rest assured that you will be treated with the highest degree of professionalism and courtesy. Our Lewisville garage door repair service can provide you with whatever you need to own a safe, efficient, and beautiful garage door and garage door opener.
Garage Door Repair Parts Showroom
A1 Garage Door showroom is on the North West Corner off Highway 75 and Parker Road. (In between Burlington Coat Factory and HobbyTown). Below is a google map to our Plano showroom. We are your local garage door repair and gate operator repair company.

Maybe you like to repair your own garage door and need a hinge or garage door opener remote. Garage door support struts are always in stock for repairs. Not only can our garage door specialists teach you how to program a remote or keypad but they can also answer your questions on repair or replacement of a new garage door or garage door opener.