Whether you are needing a garage door repair Richardson or a full garage door replacement, A1 Affordable Garage Door Services is your on-time service company. Give us a call or stop by our showroom to see first hand our great selection of garage doors and openers.
Keep Your House Beautiful with a Richardson Garage Door
Richardson, Texas is highly ranked as one of the best places to live in the United States. People who live in Richardson help maintain this status by taking proper care of their beautiful homes. The appearance of one's home can be greatly enhanced by a decorative garage door. A carriage house style garage door would be a great choice and to learn more about carriage house doors click here.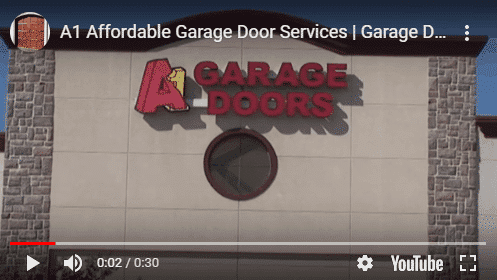 If not kept up properly, a garage door can become noisy, worn-down, and dangerous. In addition, selecting the right garage door service can be difficult. You want to find a garage door service provider that is trustworthy, knowledgeable, and shows up for your appointment.
Locally owned and operated A1 Affordable Garage Door Services cares about the customer.
Through prompt and professional service, we can assist homeowners with all levels of garage door repair Richardson.
From installation to proper repairs and tune-ups, they can help upgrade the appearance of your home and garage.
Our courteous technicians are professionally trained, bonded, and insured.
With same-day service for repairs, you can rest easy knowing your garage door will be there when you need it.
"Very professional service. Recommend to everyone who needs them!
Jing S., Richardson, TX

"A1 Affordable GDS has been extremely reliable. When our spring broke, they were out the next day. A few months later our cables went out and the technician was extremely helpful and patient. We decided that the long term solution was a brand new door. When he said we could install the very next day, we were amazed! We love the professionalism and the quick turn around. Their customer service is stellar! We have referred A1 to everyone we know. They are a true life long partner."
Brooklyn C., Richardson, TX
Quality, Affordable Garage Door Repair Richardson TX Homeowners
There are many factors to consider when determining whether you need servicing for your garage door. Safety is a priority – especially if you have children. A properly-working garage door is imperative in keeping children that may be playing outside around it safe.

In addition, a garage door gets opened and closed numerous times due to the hectic pace in which most people live. An efficient garage door can be taken for granted – until it stops working.

Just like your car, a garage door should be serviced regularly. A1 Affordable Garage Door Services can keep your garage door properly maintained on an annual basis – so that you don't have to worry about it.

A1 Affordable Garage Door Services is an authorized LiftMaster® dealer, one of the world's largest manufacturers of garage door openers. With a variety of drive systems to choose from, you can be confident that whatever you select – belt, screw, or chain drive opener – will be of high quality and guaranteed.

Some LiftMaster® garage door openers are powerful, and yet quiet and efficient. A1 Affordable Garage Door Services can help you to choose the best system for your garage door. Our helpful and professional customer service department can discuss with you your needs and make recommendations in your best interest.

A1 Affordable Garage Door Services also provides custom, hand-crafted wood doors. Made from cedar, this garage door is not only strong and durable, but beautifully crafted as well. With many designs to choose from, you can be confident that whatever garage door you decide on will be a beautiful addition to your home.

If you're looking for a garage door service company that is courteous, professional and interested in your needs, then look no further than A1 Affordable Garage Door Services.
"The person scheduling the appointment was very personable. My appointment was worked into my schedule. The serviceman that came by was prompt and right on time. Very rare these days."
Sharon A., Richardson, TX

"Good solid honest company. I would do business with you folks any day of the week! Thank you for the good job."
Mike D., Richardson, TX

"They fixed my garage door, very prompt and very good."
Ray C., Richardson, TX