**During COVID-19 we are No longer offering Free Estimates for your safety as well as our service technicians. Thank you for understanding.
COVID-19 Current Information on How We Are Helping Our Customers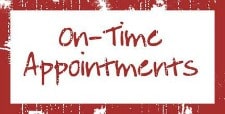 Whether you are needing a garage door repair in Richardson or a full garage door replacement, A1 Affordable Garage Door Repair Services is your on-time service company. Give us a call or stop by our showroom to see first hand our great selection of garage doors and openers.
Keep Your House Beautiful in Richardson – Garage Door Replacement
Richardson, Texas is highly ranked as one of the best places to live in the United States. People who live in Richardson help maintain this status by taking proper care of their beautiful homes. The appearance of one's home can be greatly enhanced by a decorative garage door. A carriage house style garage door would be a great choice and to learn more about carriage house doors click here.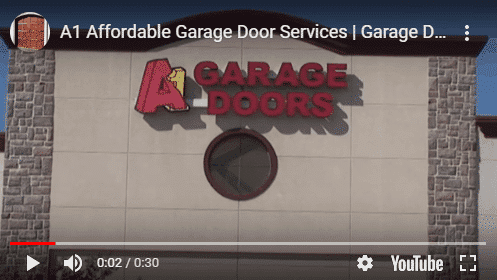 If not kept up properly, a garage door can become noisy, worn-down, and dangerous. In addition, selecting the right garage door service can be difficult. You want to find a garage door service provider that is trustworthy, knowledgeable, and shows up for your appointment.
Locally owned and operated A1 Affordable Garage Door Services cares about the customer.
Through prompt and professional service, we can assist homeowners with all levels of garage door repair Richardson.
From installation to proper repairs and tune-ups, they can help upgrade the appearance of your home and garage.
Our courteous technicians are professionally trained, bonded, and insured.
With same-day service for garage door spring repairs, you can rest easy knowing your garage door will be there when you need it.
Garage Door Styles and Installation Services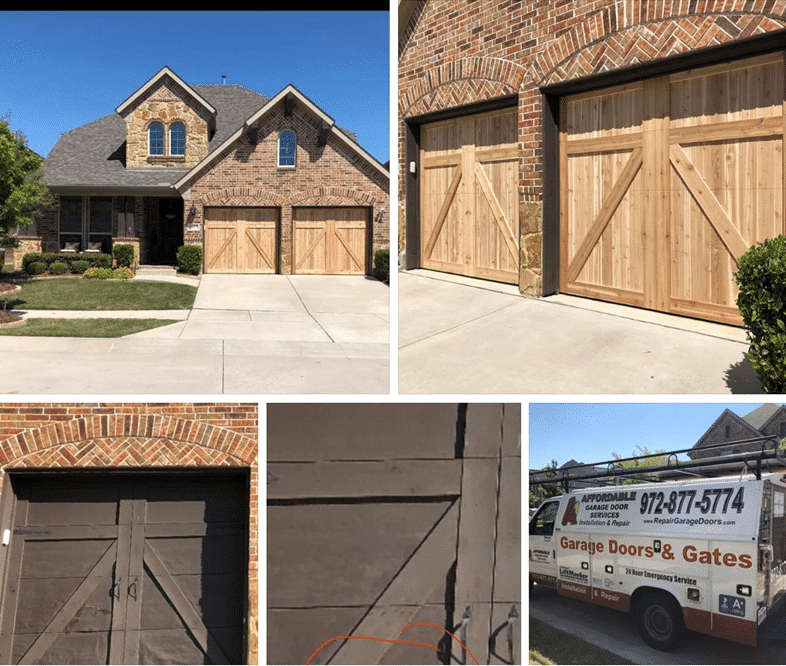 At A1 Affordable Garage Door Services, we offer several different garage door styles and material options so you can find the best garage door style and material that suits your home or business.  At A1 Affordable Garage Door Services, we have a large selection of garage doors including Carriage House Doors, Steel Garage Doors, along with many other styles and configurations.  Carriage House, also called Barn-Style Garage Doors, are available in a wide array of finishes.  Our Carriage House doors capture the look of a classic carriage house which enhances the curb appeal of your home.  Whether you are seeking to simply replace your existing garage door or planning to build new construction, carriage house style garage doors are a perfect way to incorporate curb appeal along with your own personal style.  We offer this style of door in a wide range of finishes, materials, and configurations.  We also offer Steel Garage Doors with several panel designs to choose from.  Steel Garage Doors offer flexibility, and durability, and deliver thermal efficiency that adds comfort to your home in cold or hot climates.  High Lift Garage Doors are also another type of garage door we install and service for those homes and businesses that need more clearance, allowing you to park taller vehicles or make use of a car lift in your garage.   
We offer a variety of garage doors for installation and service in homes and businesses located in the Richardson Texas area.
Some of our options include:
Amarr Stratford Garage Door 25 Gauge Steel, Amarr Heritage 24 Gauge Steel, Amarr Hillcrest Carriage House, Amarr Oak Summit Carriage House, and Amarr Classica Collection. 
Read Some of Our Reviews!
"Very professional service. Recommend to everyone who needs them!

Jing S., Richardson, TX
"A1 Affordable GDS has been extremely reliable. When our spring broke, they were out the next day. A few months later our cables went out and the technician was extremely helpful and patient. We decided that the long term solution was a brand new door. When he said we could install the very next day, we were amazed! We love the professionalism and the quick turn around. Their customer service is stellar! We have referred A1 to everyone we know. They are a true life long partner."
Brooklyn C., Richardson, TX
There are many factors to consider when determining whether you need servicing for your garage door. Safety is a priority – especially if you have children. A properly-working garage door is imperative in keeping children that may be playing outside around it safe.
In addition, a garage door gets opened and closed numerous times due to the hectic pace in which most people live. An efficient garage door can be taken for granted – until it stops working.
Just like your car, a garage door should be serviced regularly. A1 Affordable Garage Door Services can keep your garage door properly maintained on an annual basis – so that you don't have to worry about it.
A1 Affordable Garage Door Services is an authorized LiftMaster® dealer, one of the world's largest manufacturers of garage door openers. With a variety of drive systems to choose from, you can be confident that whatever you select – belt, wall mount, or chain drive opener – will be of high quality and guaranteed. Several garage door opener accessories are offer from LiftMaster.
Some LiftMaster® garage door openers are powerful, and yet quiet and efficient. A1 Affordable Garage Door Services can help you to choose the best system for your garage door. Looking for a quiet garage door opener? The latest garage door opener has a camera integrated into the opener. Our helpful and professional customer service department can discuss with you your needs and make recommendations in your best interest.
One of the most common garage door issues are the photo eyes or sensor becomes misaligned. The reason is because they are require by law to be no more than 6″ from the ground. Bumping into them, sweeping the floor are all common misalignment problems.
A1 Affordable Garage Door Repair Services in Richardson also provides custom, hand-crafted wood doors. Made from cedar, this garage door is not only strong and durable, but beautifully crafted as well. With many designs to choose from, you can be confident that whatever garage door you decide on will be a beautiful addition to your home.
If you're looking for a garage door service company that is courteous, professional and interested in your needs, then look no further than A1 Affordable Garage Door Services.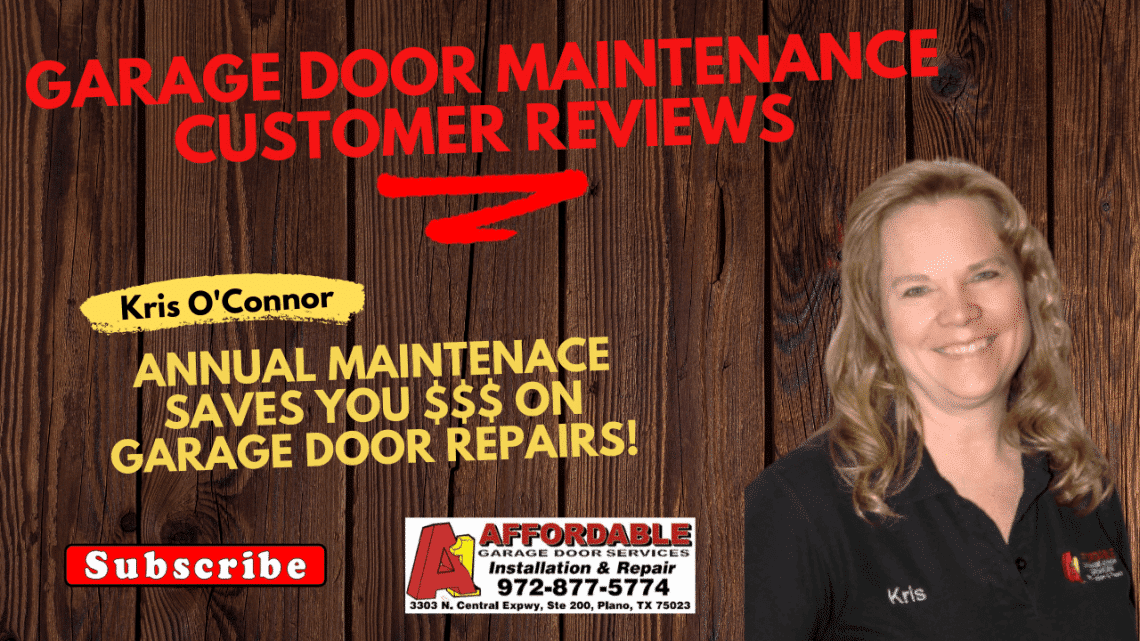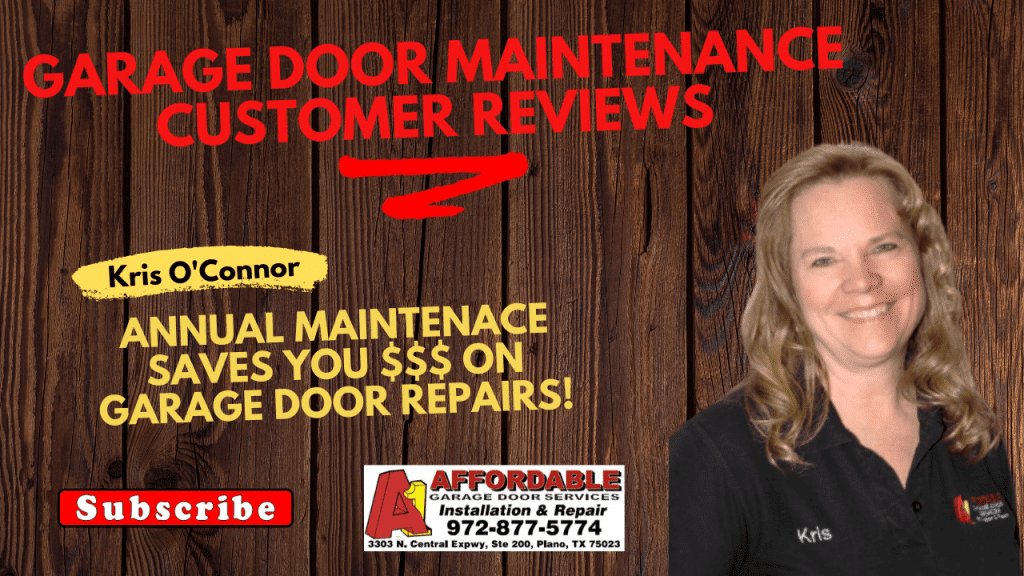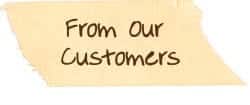 "The person scheduling the appointment was very personable. My appointment was worked into my schedule. The serviceman that came by was prompt and right on time. Very rare these days."
Sharon A., Richardson, TX

"Good solid honest company. I would do business with you folks any day of the week! Thank you for the good job."
Mike D., Richardson, TX

"They fixed my garage door, very prompt and very good."
Ray C., Richardson, TX

"Very knowledgeable and informing, efficient and available when needed."
Dee Morgan., Richardson, TX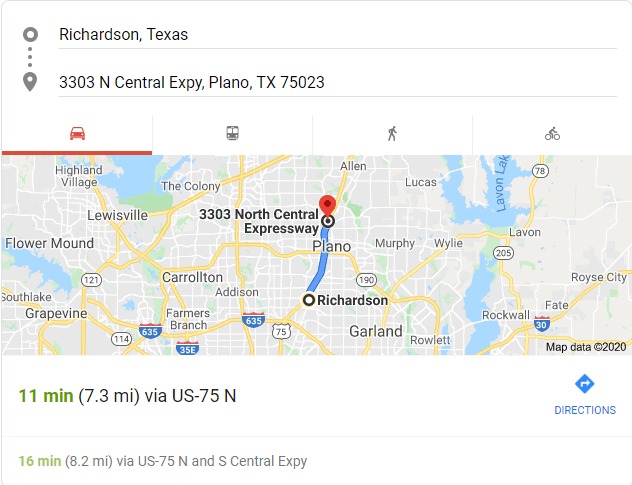 DIY Garage Door Parts Showroom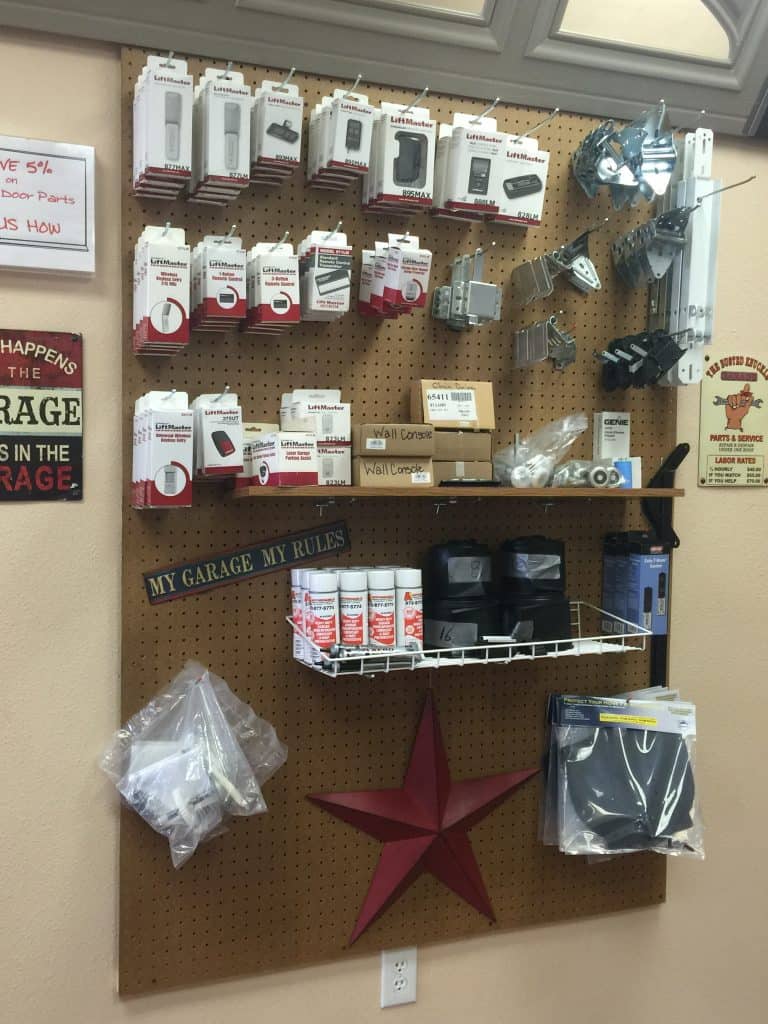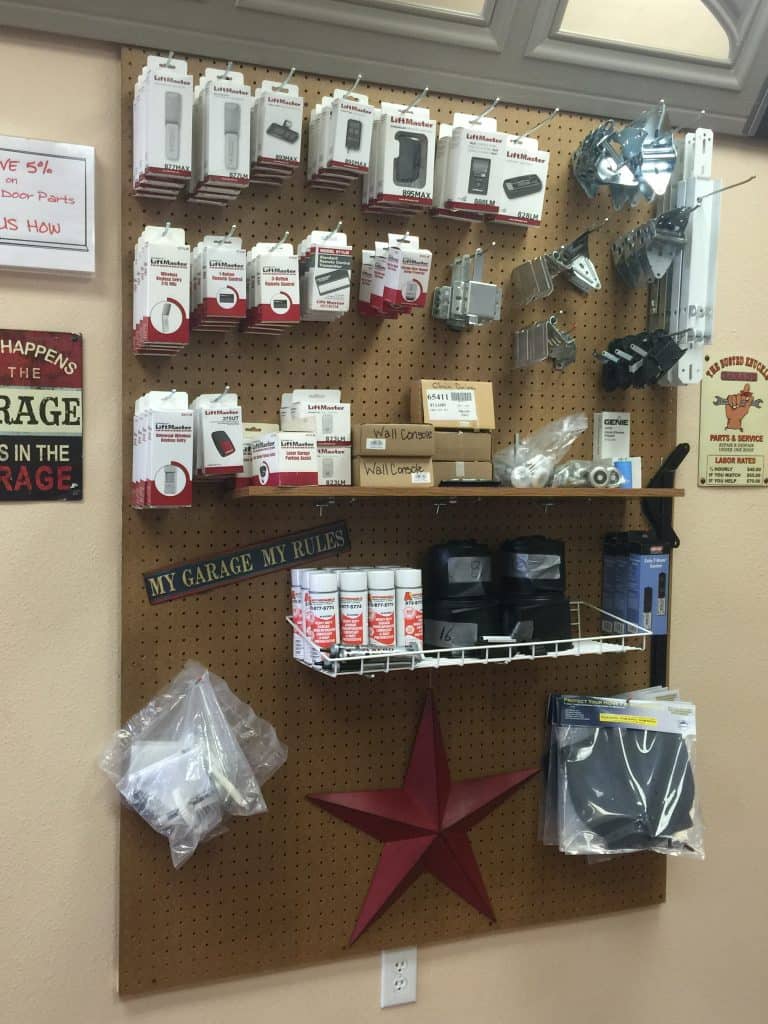 Our garage showroom is right down the road from Richardson, TX. Above is a google map to our Plano showroom.
Maybe you like to repair your own garage door and need a hinge or garage door opener remote. Some other parts we keep in stock are support struts, keypads, bottomseal, tracks and genie replacement parts.
Not only can our garage door specialists teach you how to program a remote or keypad but they can also answer your questions on repair or replacement of a new garage door or garage door opener.
Service areas for repairing, replacing garage doors, repairing, replacing garage door openers include, Plano, Lucas and Parker.
"I had A1 out to give me a quote a year before we hired them. I remember the original technician answering all of my questions with patience and honesty. A year later we scheduled the work to be done. This technician was efficient and thorough. He got the work done in a timely manner and with a polite disposition. I would definitely recommend A1 Affordable Garage."
Carrie D., Richardson, TX