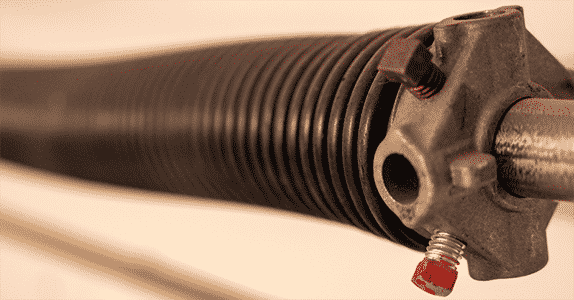 A garage door has many components working together, but none are more important than the garage door spring. The primary function of a garage door spring is to store mechanical energy to open and close your garage door smoothly. The torsion spring must properly match the garage door itself and must be in good condition. As the garage door lifts to open and close the torsion springs are wound and unwound to counterbalance the weight of the door. Depending on the type and size of the garage door the weight can vary between 150 and 600 pounds.
How Many Types of Garage Door Springs are There?
There are two main categories of garage door springs: Extension Springs and Torsion Springs
Extension Springs: Extension Springs generally run along the sides of the sectional door and are commonly found in older homes. Along the walls of the garage are pulleys that the extension springs connect to along with cables. They are designed with a clip system, single or double loop.
Torsion Springs: Torsion Springs are coils made by large gauge steel wire that tightens when the door is closed and unwinds on opening. Torsion springs are mounted horizontally above the opening of the door and help lift the door.
Which Spring Type is Better?
Torsion Springs lifespan is longer than Extension Springs. They are stronger and need fewer adjustments. Torsion Springs allow for smoother motion and are safer than Extension Springs.
What Is the Lifespan of Garage Door Springs?
The average garage door opens and closes 3 to 5 times a day. If correctly installed torsion springs should last about 10,000 cycles of opening and closing which is between 6 to 10 years. Some last longer and some last less depending on different factors of weather conditions and maintenance.
What are the Common Signs of Worn Springs?
Look for: Door closes too fast, door appears misaligned, gaps in springs, rusty springs or stretched out and lots of noise when operating.
Do not attempt to repair or replace your garage door spring.  It's best to leave it to the professionals who have the knowledge and tools to fix the problem. 
Contact A1 Affordable Garage door services for all your garage door repair needs Serving most of Dfw and surroudning aresa like Mckinney, Melissa, Princeton, Plano and more.