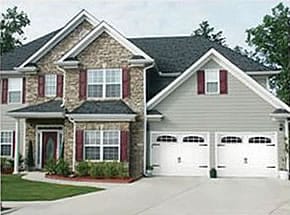 Carriage House garage doors are a great choice for homeowners, especially if you are wanting an eye-catching appeal. Many people agree that carriage house garage doors are pretty to look at, but don't want to spend the extra money to install one. Though they have a high price tag, there are some great benefits of installing a carriage house garage door.
Here are Three Benefits of Carriage House Garage Doors:
Carriage House Garage Doors have an Excellent Visual Appeal
Carriage house garage doors make a lasting statement. They are beautiful curb appeal. The carriage-style look, inspired by the 1800's carriage houses, is unique and charming to any home, wherever your home is modern or traditional-style, or country or ranch-style. They are as customizable as you prefer, from the type of hardware to the color of the material.
Carriage House Garage Doors can Increase the Value of Home
With the cost of carriage house garage doors comes an excellent return on investment. It can raise the overall value of your home and the aesthetic appeal alone can make your home stand out to homebuyers. If you plan you sell your homes in the future, carriage house garage doors are great for the resale value of your home.
Carriage House Garage Doors are Durable
A carriage house garage door is made from high-quality materials. It can be made from either steel or wood. With their high-quality parts, they can handle extreme climate changes and weather. The durable design makes them low maintenance when it comes to heat or cold, and rainstorms or snowstorms. This is very important to consider if you live in extreme climate or experience inclement weather.
Are you interested in finding out more about carriage house garage doors? You can call us at A1 Affordable Garage Doors for an estimate of carriage house garage doors to see if they would be a perfect fit for your home. Serving Dallas and Surrounding areas like Mckinney, Melissa, Rowlett.