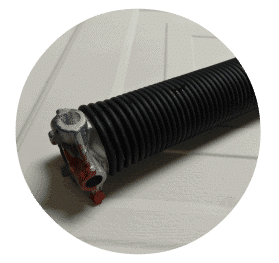 Garage Door Spring Replacement
It is important to have a garage door professional replace your garage door springs. Even though it may be hard for some DIY people to delegate the task to experts, it is more than worth your time, money, and safety. Garage door problems come unexpectedly and cause you a big inconvenience. A common reason for garage door problems is related to the door springs.
A garage door functions correctly with tight tension in the springs. If the spring breaks, it results in a needed garage door repair. Do not attempt to replace garage door springs on your own. You may be able to check your car oil or even add oil to your car on your own, but garage door springs are not something to attempt on your own unless you are a professional. Doing so could put your safety at a risk. Replacing the garage door springs requires knowledge, experience, precision, and care, which is why it is recommended to contact an expert to service your garage door.
If your garage door springs are squeaky or noisy, you could try to lubricate them yourself with a silicone lubricant before calling a professional. Note that you do NOT want to touch the springs while you lubricate them. If you have tried lubricating them yourself and your garage is still noisy, call the experts at A1 Garage Door at (972) 877-5774 to schedule your appointment for repair.
Garage Door Springs Types
There are two types of garage door springs: torsion and extension. Torsion springs are attached above the garage door when it is closed. Extension springs are located above either side of the door. Neither of the two types of springs is inevitable to breaking. The tight tension is what allows the door to lift, if a spring breaks, it can have a forceful snap to cause damage to anything in its way. Garage doors can weigh more than 500 pounds, which is why one wrong move can be intense.
The Importance of Calling a Professional for Spring Repair
Professional Garage Door Technicians…
Understand how garage doors work
Know how to properly install springs
Have required tools to get the job done efficiently and correctly
Know what to do to avoid accidents and additional problems
Ensure the garage door is correctly balanced and springs are properly conditioned
If you are experiencing broken garage door springs or any other garage door problem, reach out to A1 Affordable Garage Door Repair today! We Service You don't have to attempt the fix the problem yourself, get the help you need without any safety risks. We Service most of the Dallas and surrounding areas including Wylie Tx.