**During COVID-19 we are No longer offering Free Estimates for your safety as well as our service technicians. Thank you for understanding.
COVID-19 Current Information on How We Are Helping Our Customers
"This was the best experience I have had with any company that has serviced anything at my home!"
James Y., Wylie, TX 8-4-2020
Your garage door is important to us and we want you to know that your garage door needs are a priority. It's a real inconvenience when the garage door quits working.
Same-day service on garage door repairs and installations in Wylie TX
We will fix anything from broken cables and springs to broken doors.
Garage door openers are our specialty
Whatever your problem, you can count on our skilled service technicians to help fix your garage door issues Quickly.
"Our garage door had been "fixed" about a month or two before by another company. I pulled the car into the garage and heard a loud noise, the door cables were broken and the door was off the track. I called the previous company and they said they couldn't come out until the next day. That wasn't going to work as I didn't want to leave the door open all night. I called A1 and they came out quickly and fixed it the same day!!!"
Sue H., Wylie, TX 8-2-20

On-Time Appointments
can be critical when a garage door falls off the tracks and is hanging over your car or you forgot to make sure the garage door was all the way open before you backed your car out. It's very scary when that happens.
We hope you never have to experience that scary moment but if you do, you can rely on A1 Affordable Garage Door Services to be there within the hour or set an appointment to meet your needs.
As a matter of fact, your neighbors in Wylie Texas called us when it happened to them.
"We called at 8:30 am and Dakota arrived at 11 am. 30 minutes earlier than the estimated time!
Dakota was very personable and offered several repair options including total system replacement. He also explained the warranty.
We would definitely work with your company again!!"
Eric S., Wylie, TX
Offering Same Day Service
When your garage door breaks A1 will give you peace of mind knowing that one of our experienced Service Technicians will arrive at your home to help you out of a sticky situation even if it's at 11:00 pm at night because garage doors never break between 8:00 am and 5:00 pm Monday – Friday!
Unlike some garage door repair Wylie companies whose technicians show up whenever they please, our experienced techs respect your time and will arrive on time when it is convenient for you. If your garage door is in need of repair, you can expect a technician to arrive the very day that you call, ready to fix the problem immediately.
Call Now to get your Garage Door Repaired Today!

Experienced Technicians Matters for Your Wylie Garage Door Repair
Your garage door is also one of the heaviest items you have in your home and not something you want to be faulty or falling apart, especially when you have children around who could be injured if they were playing near it when your garage door malfunctions.
Most homeowners take their garage door for granted and don't think about it… except when it stops working. If you rely on your garage door opener as the sole means of entering your house, you may find yourself locked out one day when the garage door refuses to open because of a broken spring or worse the garage door has come off the tracks.
Don't let this happen to you! An annual maintenance check is all you would need to keep your garage door functioning properly. Call A1 Affordable Garage Door Services today to ensure your garage door is always there when you need it.
Call our office today at 972-877-5774!
All of our technicians are professionally trained, uniformed, and bonded and insured, so you can rest easy knowing that when A1 Affordable Garage Door Repair Services techs arrive on the scene, you will be in good hands.
A1 Affordable Garage Door Services not only provides repair service for your garage door, but we provide custom installation of new garage doors as well. As an authorized LiftMaster® dealer, the world's largest garage door opener manufacturer, we have access to some of the finest garage door openers on the market.
For all of your repair needs, remember to call A1 Affordable Garage Door Services for the best customer service, quality garage doors, and experienced garage door technicians. Call A1 Affordable Garage Door Services today at 972-877-5774 to schedule your on-time appointment!
Some of the areas we service are Addison, Irving and Aubrey Texas.
DIY Garage Door & Garage Door Openers Parts
Our Plano Showroom is a short driving distance from Wylie, TX. Below you will find a Map to our showroom. We are open Monday thru Saturday.
If your looking to insulate your own garage door we do carry a DIY Garage Door Insulation kit.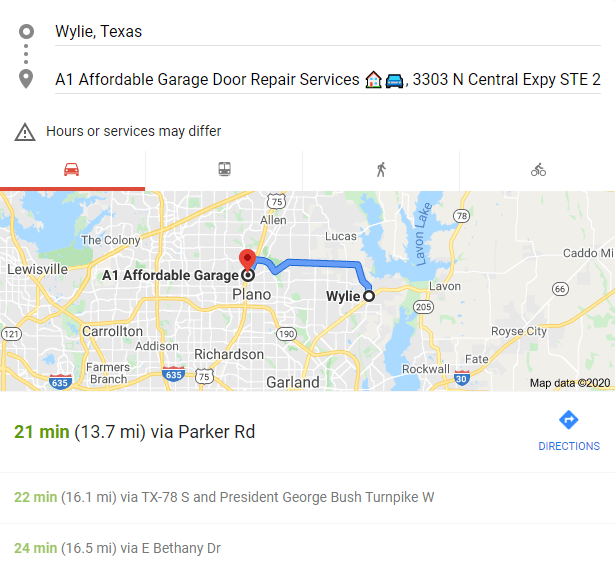 Wylie Neighborhoods
Alanis Crossing, Wylie
Braddock Place, Wylie
Creekside Estates, Wylie
Dominion of Pleasant Valley, Wylie
Kreymer Estates, Wylie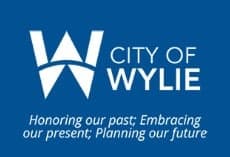 Wylie, Texas
Wylie's story began during the "Golden Age" of railroading. This lasted from about the 1880's to the 1920's. Changing the economic climate of the country. Although some U.S. citizens were troubled by trains – one Ohio school board claimed them to be "a device of the devil" and that travel by train would cause a "concussion of the brain" – no one could argue with the efficient manner in which rail transported goods. Wylie has so much to offer and you can learn more here.
Wylie has over 30 parks available for family fun, sports, swimming and so much more. Which park is your favorite in Wylie? To learn more about Wylie Parks and Recreation pop over and explore here.