Your garage door springs are responsible for opening and closing your garage door. They do all the heavy lifting. When your garage door is closed, the springs have tension. When your garage door is opening, the tension of the springs is released to lift the weight of the door. This means that your garage door has the most tension when it is in the closed position.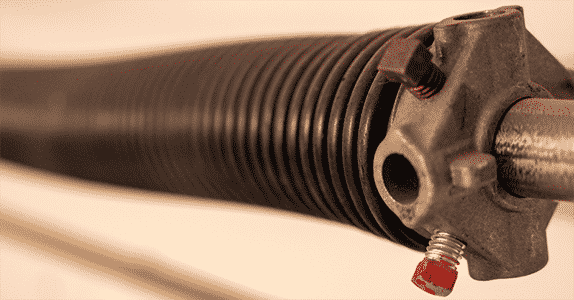 With all the weight of the garage door, it is no surprise that the spring can break, but what are the most common reasons for breakage?
Two Types of Springs
Torsion Spring
Torsion springs are the most common type of residential garage door springs. The system either has one or two springs. They are located horizontally on the shaft above the garage door. Each spring has a cable attached to either end of the spring.
Extension springs are located on each side of the garage door tracks, instead of horizontally above the door. When the garage door is in motion, the springs work by extending and contracting along the pulleys and cables.
2 Reasons for a Broken Garage Door Spring
General Wear-N-Tear
Wear-N-tear is known for being the most common reason for a broken spring. Depending on the quality of spring, they should last at least 10,000-20,000 cycles (1 cycle = opening and closing). If you are using your garage door excessively, you can expect your springs to experience wear.
Rust can ruin your springs relatively fast and significantly reduce its lifespan. Rust on your spring causes extra friction, which can weaken the strength and reliability of the coils. As a preventative, using a silicone-based lubricant on the springs a few times each year can help increase the lifespan of your springs.
If you have a broken spring and need it replaced or any other type of garage door repair. Contact us at A1 Affordable Garage Door Repair Service 24/7 emergency service available. Serving Dallas and surrounding areas like Addison, Rowlett, Southlake and More!