Do you know where your house keys are?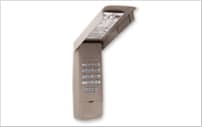 A few years ago, as my son was growing up, I thought the best way for him to learn some responsibility was to carry a house key with him in case he needed to let himself in after school. Little did I know that he would lose several keys, lock himself out and I would have to drive home from work to let him in. Sound familiar? It was very frustrating, as you know; bosses don't always like their employees leaving early.
Then someone suggested I get a wireless keypad for my garage door opener to let him in after school. Wow! What a great idea! I was able to get a wireless keypad that would open my garage door so my son could let himself in after school. No more lost keys, no more stress on where he left the key, no more leaving early which made my boss so much happier!
Do you have an outside wireless keypad by your garage door? Some misconceptions of wireless keypads are that someone is going to get your 4 digit code. In today's world, most people use a debit card that has a four digit PIN. The only way someone would get that code or PIN is if you gave it to them. I am sure you're not going to do that.
Here are some reasons why you might consider having an outside wireless keypad for your garage door,
When working out in the yard, you don't have to leave your garage door open. (it only takes 10 – 20 seconds for burglars to grab and go)
When working out in the yard, you won't have to carry a remote with you to open your garage door.
When you go for a walk, you don't have to take a remote with you to get back in.
When walking your dogs, you don't have to carry house keys to let yourself back in the house.
You can set a Temporary password for visitors or service persons.
Easily change codes.
If you would like to add a wireless keypad to your home, give us a call today or stop by our showroom and pick one up on the way home from work. They truly are a time and life saver!
What kind of garage door opener do you have?
There are several different manufacturers of garage door openers. LiftMaster, Genie, Overhead Door, Legacy, Sears Craftsman, Chamberlain, and Linear just to name a few. Do you know which one you have? The motor that's hanging from your ceiling will give you the name brand you have in your garage.
We carry a universal wireless keypad that operates most name brand garage door openers. Stop by our showroom and pick one up today. We will explain and show you how to program it and its only two screws to install on your wood jamb.
A1 Affordable Garage Door Repair Plano, Coppell, Addison, Frisco, Dallas and Surrounding Areas.