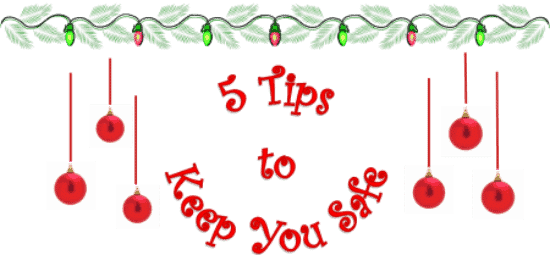 Garage door safety for the holidays is often overlooked because every year during the holiday season we are so busy shopping for gifts, going to Christmas parties, attending our children's recitals and so much more.  Our plates are so full that we tend to "forget to"… fill in the blank).
What happens if you "forget to"… (fill in the blank).
This can make the day more stressful than it ever needs to be.
Below are some tips for helping you be prepared for the hectic holiday season and garage door safety.
This is probably the easiest "forget to" and the easiest to prevent. Can you guess what that might be? Don't "forget to" close the garage door! How many times do you walk into the house and "forget to" push the button to close the garage door because you're on the cell phone or your hands are full from carrying groceries in? It is a fact that your garage door is the largest moving wall in your home and largest area that has many valuables exposed when the garage door is left open.
It's an Open Invitation saying come on in with your garage door wide open!

 

Keep Your Garage Door Closed!

Don't "forget to" lock the door going into your home from the garage.  Thru LiftMaster's research, 70% of all homeowners use their garage as the entry point in today's world.  Is this where you enter your home?  So many homeowners use their garage door as the "lock" or barrier to gain access to their home.  It is a false sense of security because if the intruder can get your garage door open, all they have to do is walk in your back door and have access to all your valuables inside your home. Isn't that where you drop most everything when you get home by the back door?  A few items that may be found by the door from your garage are a laptop, purse, baby bag, iPad, and wallet.
Don't "forget to" turn the light on outside your garage door. This is one of the many tips I learned from the Crime Watch program in my old neighborhood. Lights on the outside of the garage should be turned on. It gets dark much earlier at this time of year and easy for criminals to hide in bushes or on the side of the home. Having a good light source is important for safety. A motion censored light is a good alternative to install by your garage door. Every time a person gets close to the light it will come on.  This could possibly scare a criminal away because the more well lite it is, the safer you will be coming and going.
Don't "forget to" hide your remote control. If you park your car outside in the driveway and leave your remote control on your visor in plain view a criminal can break the window push the button.  Now they have access not only to your garage but your home as well because like in tip 2 "Lock" your back door, many do not. It takes less than 30 seconds to steal what they want to steal, purses, laptops, TV's etc. There are keychain remotes available for most garage door openers.
Don't "forget to" add an outside keypad to your garage door. Almost every garage door opener on the market today has a wireless entry keypad available. They are simple to program and in most cases it's only two screws to attach them to the wood jamb outside your garage door. Don't worry that someone is going to get your code. If you program 1234 or 1111 then yes it would be easy to figure that code out. Be more creative with your code. You wouldn't give your pin number for your bankcard out would you? The only way someone could figure your code out is if you gave it to them. These are also great for kids because they won't lose the code….they just seem to lose the keys to your home! Having a wireless keypad is safer than carrying around a remote control if you like to take your dog for a walk or ride your bike.
These are great tips for Garage door safety for the holidays. Share these five tips with your friends and family during the holiday season… but most importantly these tips are valuable all year long not just at the holidays.
To learn more about remotes, wireless keypads, the new APP that is available for smartphones and general questions regarding garage doors or openers stop by our showroom in Plano where our team of experts can help you Monday – Saturday.  Click here for our showroom location