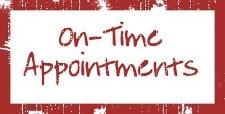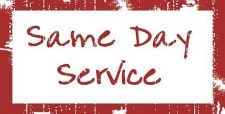 Josephine Homeowners Choose
A1 Affordable Garage Door Services For All Repairs
At A1 Affordable Garage Door Services, we are dedicated to providing our Josephine customers with only the highest level of customer service and workmanship on the garage door. We are a locally owned business that provides superior garage door installation and repairs.
On-Time Appointments
can be critical when a garage door falls off the tracks and is hanging over your car or you forgot to make sure the garage door was all the way open before you backed your car into it. It's very scary when that happens. We hope you never have to experience that scary moment but if you do, you can rely on A1 Affordable Garage Door Repair Services to be there within the hour or set an appointment to meet your needs. As a matter of fact, your neighbors called us when it happened to them.
Offering Same Day Service

When your garage door breaks A1 will give you peace of mind knowing that one of our experienced Service Technicians will arrive at your home to help you out of a sticky situation even if it's at 11:00 pm at night.
Unlike some garage door repair Josephine companies whose technicians show up whenever they please, our experienced techs respect your time and will arrive on time when it is convenient for you. If your garage door is in need of repair, you can expect a technician to arrive the very day that you call, ready to fix the problem immediately.
Call Now to get your Garage Door Repaired Today!

Your garage door is also one of the heaviest items you have in your home and not something you want to be faulty or falling apart, especially when you have children around who could be injured if they were playing near it when your garage door malfunctions.
Most homeowners take their garage door for granted and don't think about it… except when it stops working. If you rely on your garage door opener as the sole means of entering your house, you may find yourself locked out one day when the garage door refuses to open because of a broken spring or worse the garage door has come off the tracks.
Don't let this happen to you! An annual maintenance check is all you would need to keep your garage door functioning properly. Call A1 Affordable Garage Door Services today to ensure your garage door is always there when you need it.
Call our office today at 972-877-5774!
All of our technicians are professionally trained, uniformed, and bonded and insured, so you can rest easy knowing that when A1 Affordable Garage Door Services techs arrive on the scene, you will be in good hands.
A1 Affordable Garage Door Services not only provides repair service for your garage door, but we provide custom installation of new garage doors as well. As an authorized LiftMaster® dealer, the world's largest garage door opener manufacturer, we have access to some of the finest garage door openers on the market.
For all of your repair needs, remember to call A1 Affordable Garage Door Services for the best customer service, quality garage doors, and experienced garage door technicians. Call A1 Affordable Garage Door Services today at 972-877-5774 to schedule your on-time appointment!