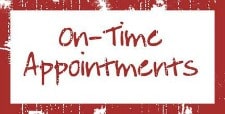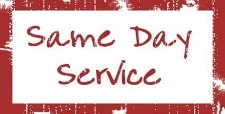 When you call A1 Affordable Garage Door Repair Services our specialists will be happy to set an appointment for you at No Charge!
COVID-19 Current Information on How We Are Helping Our Customers
Garage Door Repair Services for Highland Village
Can Stop That Awful Squealing Noise!
Has your garage door started acting strangely or making funny noises? Is it starting and stopping when it shouldn't? Or maybe your garage door has stopped working altogether. Whatever your problem with your Highland Village garage door, you can always count on the trained professionals at A1 Affordable Garage Door Services for our superior customer service, our years of experience, and our ability to give you a 100 percent satisfaction guarantee.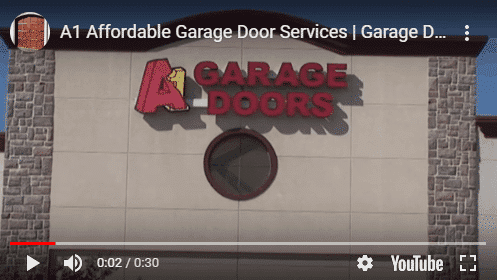 Your garage door is one of the things that you just don't think about every day, but it's something that you use almost every day. When it stops working all of a sudden, you notice, and it's extremely inconvenient.
A1 Affordable Garage Door Services understands completely.
That's why we offer same-day services on your Highland Village garage door repairs.
Anything from a broken door to broken springs and cables, to even just a malfunctioning door opener
Our friendly garage door service technician will arrive on-time at a time convenient to your schedule.
A1 Affordable Garage Door Repair Services is pleased to be able to offer our Highland Village garage door repair services to you and your family. If you are having trouble with your garage door, please don't hesitate to call us. Our number is 972-877-5774. One of our door specialists is standing by waiting to help so call today!
"Your emergency response on a Saturday night at 10:00 pm was very unexpected and appreciated. Not having to keep garage door open all night. Thank you and I will pass on to anybody I know to use your service."
Mario Y., Highland Village, TX

"On my first contact with A1 Affordable, I explained my problem (garage door spring had broken) and the first question from the call taker "is your car trapped in the garage?" I felt that was a "caring attitude" that was carried thru the entire process. Thank you."
Robert M., Highland Village, TX
New Installation for Your Highland Village Garage Door
If your old garage door has seen better days, and you're finally ready to replace it with a new garage door, then look no further than your dependable A1 Affordable Garage Door Services technicians to help you find and install the right garage door for your home.
As an authorized dealer of one of the largest garage door opener manufacturers in the world, LiftMaster®, we have several different styles for you to choose from and you're sure to find the perfect opener to match your home.
"We had a great experience with A1 Affordable GDS. They were able to come out to our house that same day even though we weren't available until the next day. When the technician did come he was early (which was cleared by us first from a phone call), worked diligently explaining the whole time what he was doing and then explained the cost. We were very pleased with our entire experience."
Jeri P., Highland Village, TX

"I had a great experience with A1 Affordable. Prompt, friendly, knowledgeable and efficient. My garage door was noisy and sticking. In a relatively short amount of time, the techs fixed some problem rollers, lubricated and adjusted all other parts and checked all safety features. What a difference! Quiet and smooth door. They look the time to explain what they did and what I should do to take care of garage door opener. Thanks A1!!"
John S., Highland Village, TX
If you're looking for a garage door that's really special, we also have available custom-made cedar wood garage doors that can add a touch of elegance and beauty to any home. Our custom cedar wood garage doors are hand-crafted and made from 100 percent cedar wood, and every door can be stained to add color and protect the wood against the elements. Since each garage door is custom-made, we can fit any doorway no matter what size.
So call us today for you Highland Village garage door repair or installation and see the difference for yourself.
"Click here for our Monthly Internet Specials"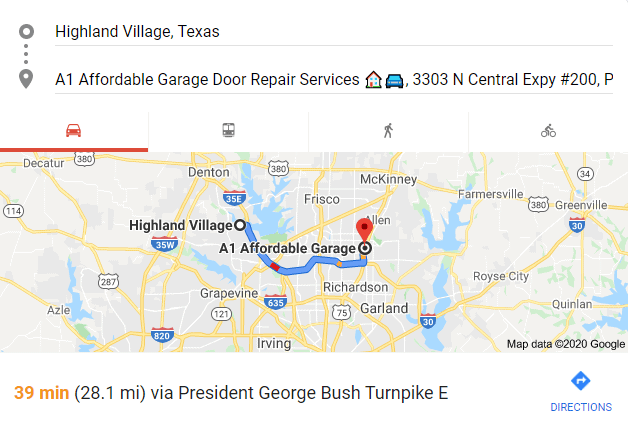 "I knew my garage door was about to fail. There were bolts coming out and it made a horrible sound each time I used it. (It was 26 years old.)
I called A1 Affordable Garage Door Services in the morning. They came out the same day. They gave me a fair quote on a new garage door. The next day I had a new garage door that works perfectly. I felt they did an excellent job. I would highly recommend this company."
Debbie B., Highland Village, TX
"We are very pleased with the work & the response with A1. We called A1 on a Saturday when the spring broke on our garage door & we couldn't get it open. A1 was able to send a technician the same day. The technician was very good & made recommendations to improve the garage door. We are very pleasant with the work that was done & the quick response. We will definitely call them again & recommend them to others."
Charlotte T., Corinth, TX 6-8-20