**During COVID-19 we are No longer offering Free Estimates for your safety as well as our service technicians. Thank you for understanding.
COVID-19 Current Information on How We Are Helping Our Customers
"Click here for our Monthly Internet Specials"

Can be critical when a garage door falls off the tracks and is hanging over your car or you forgot to make sure the garage door was all the way open before you backed your car into it. It's very scary when that happens. We hope you never have to experience that scary moment but if you do, you can rely on A1 Affordable Garage Door Services to be there within the hour or set an appointment to meet your needs. As a matter of fact, your neighbors called us when it happened to them.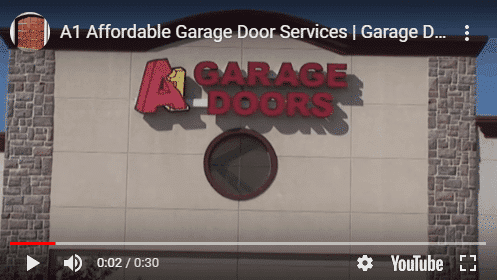 Serving these Anna TX neighborhoods
Creekside Acres
Oak Hollow Estates
Pecan Hollow
West Crossing
Willow Creek
24 Hour Garage Door Repair Service Anna TX
When your garage door spring snapped or breaks we will give you peace of mind knowing that one of our experienced Service Technicians will arrive at your home in Anna to help you out of a sticky situation even if it's at 11:00 pm at night because garage doors never break Monday – Friday between 8:00 am and 5:00 pm!
Fixing the Garage Door or Garage Door Opener
When you call A1 Affordable Garage Door Services our garage door repair Anna specialists will be happy to set an appointment for you at No Charge!
Is it important for your family to have:
A service technician show up when they are scheduled to?
A 24/7 live garage door specialist helping you troubleshoot your garage door problem?
A Garage Door Service Company that follows the "Code of Conduct" in the industry?
A Garage Door Service Company that Guarantees your satisfaction?
If you answered Yes to any one of the questions above than call us now

A1 Garage Door showroom is right down the road from Anna, TX. Below is a google map to our Plano showroom. We are you local garage door repair company.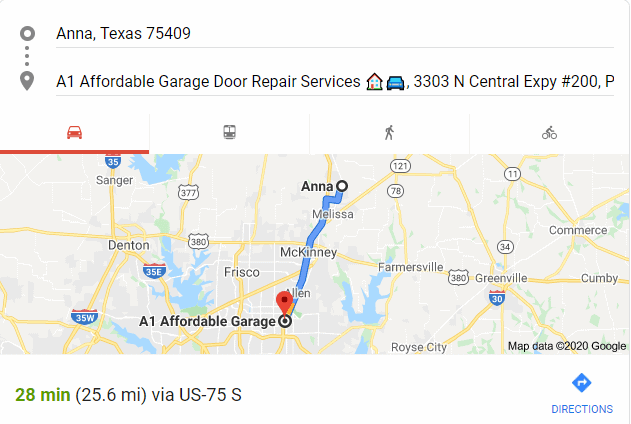 Thinking about moving to Anna?
Anna Texas is a great place to live. We thought you might be interested in Anna, Texas history.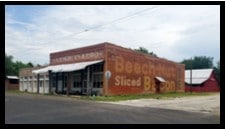 Anna is located on State Highway 5, FM 455 and S Highway 75 eleven miles Northeast of McKinney in north central Collin County. Although Collin McKinney settled within a few miles of the future town-site in 1846, John L. Greer, who arrived in 1867, is credited with building the first home and store in the new community. The Houston and Texas Central Railway, at that time built between Dallas and Denison, passed through the area in 1873. By the time Anna was platted in 1883, it had a population of twenty, two stores, a steam gristmill, and a Baptist church. A post office also opened in that year. By 1890 the town had a population of 100 to 200. Anna was incorporated in 1913, with John L. Greer as first mayor.
Anna Parks
Slayter Creek Park – Offers walking trail, a skateboard park, a playground, horseshoe pits, a shuffleboard court, a splash pad, disc golf course, a large pavilion, gazebo, and a concession building with restrooms. 
Natural Springs Park – Offers the area around the spring and pond is heavily wooded. A large open area is located along the west side of the tract, providing lots of room for flying kites, playing with Frisbee's, and other passive recreational activities. While the majority of the park will remain in its natural state, amenities will include walking trails (with three bridges), picnic tables, benches, and a fishing pier at the pond.
More information on all the parks in Anna are here.
We have linked here to the Official Website of Anna, TX   Everything you want to know about Anna is located on there website. Learn more about Anna, TX on wikipedia.
So whether you had a broken spring, a cable snapped, or are in need of any other garage door repair Give us a Call Day or Night.