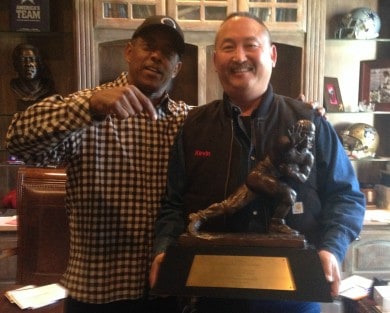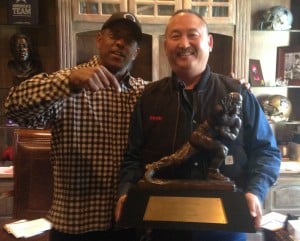 As I sit and write this today I am excited, overwhelmed and sad because the National Football League (NFL) is almost over for the 2014-2015 season.
We are huge Dallas Cowboy fans and have a tailgating trailer to prove it.  Every home game we are ready to go and at the stadium by 7:00 am.  We are completely set up by 8:00 am when all our old and new tailgating friends start to show up.
On Sunday The Dallas Cowboys are playing against the Green Bay Packers.  I am leaning towards the Dallas Cowboys to win however, I am a born and bread Green Bay Packer fan, so I am very torn…who do my allegiances go to? I wish I could be attending the game this weekend as it is being called the Ice Bowl 2.  My father and Uncle had the privilege of attending the Ice Bowl in 1967.  I might have carried the tradition on for cold weather footba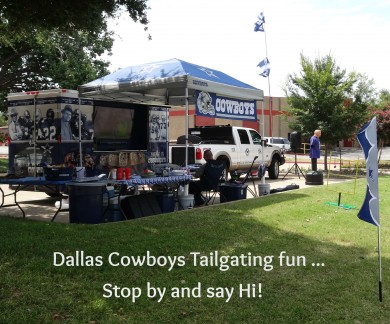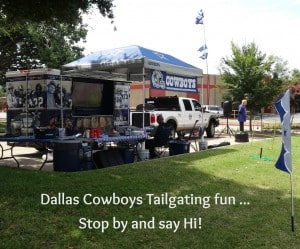 ll!
The last half of the football season, A1 Affordable Garage Door Services was honored in being one of several sponsors for the Dallas Cowboys "Inside the Huddle" TV program airing on TXA 21 every Sunday morning at 8:30 am.
We met and spoke with several Dallas Cowboy players on a weekly basis at "The House of Blues" where the taping took place. Some of the players we met were JJ Wilcox, Tyrone Crawford, Kyle Wilbur, Jeremy Mincy, Gavin Escobar, Jeff Heath, Joseph Randle, and previous players such as Tony Dorsett, Greg Ellis, and Chad Hennings.   I even had the opportunity to be up on stage with Greg Ellis!  That was so much fun.  Guy Rawlings from CBS hosted the show and made it so much fun to learn about the players and their daily lives.  It wasn't all about football!
Check out all the pictures we were able to take with them!  WOW what a slice of life experience….Thank You Ray Solinas, Chris Vandeventer with Sports Media, LLC for making us feel so welcome and honored to be a sponsor. Thank you to all the players, their wives, girlfriends and friends for allowing us to take pictures get autographs and so much more.  Thank you to the other sponsors for making us feel welcome to the group and hope to share business in the future.
Lastly, I want to go to the Superbowl in Arizona so…………………..
GO Cowboys!!!