Thank you to all who came out for our annual Garage Door Safety Fair.
GARAGE DOOR SAFETY FAIR FUN!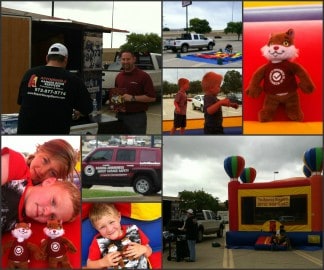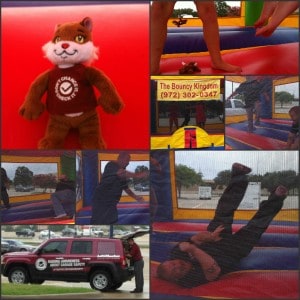 We had so much fun at the garage door safety fair in the bounce house, grilling hot dogs and watching the World Cup on a 60″ TV inside the Cowboys Tailgating Trailer!  Even our Service Technicians got in on the fun and jumped in the bounce house before we sent them off to fix your garage door!
Joe from LiftMaster our Safety Ambassador was here and spoke about the necessary equipment that is needed for a garage door to be safe.  What to look for and the new features the LiftMaster Garage Door Openers come with.  With the new technology a homeowner can now be alerted every time their garage door will open or close with their smartphone, computer or tablet.
How many times have you thought as your driving to work….Did I shut the garage door?  Then you turn around and drive back just to make sure?  Any homeowner with a garage door has done that at least once…if not more….
Click here to learn how you can check your own garage door and opener and register to win a makeover or stop by our showroom in Plano and see the new technology work.
To learn more about LiftMaster Garage Door Openers click on the link
CALL  A PROFESSIONAL TODAY
Have your Garage Door and Garage Door Opener checked