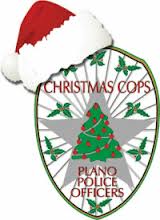 Every year the Plano Police Department employees help local families in need.  They have been doing this since 1984.  They collect and distribute food, toys and jackets or coats to needy families in Plano.  Each of the families selected are referred by Plano Police employee who has met the family through their police duties.  Several days before Christmas, Santa and his helpers in police uniforms make deliveries to families across Plano.  Plano Police Chief Gregory W. Rushin, members of the Plano City Council, alumni from the Plano Citizens Police Academy, and family members of Plano Police Officers have also participated in these deliveries.
This year Jersey Mike's in Plano, A1 Affordable Garage Door Services in Plano teamed up to collect 50 bikes to give to the program.  They went to the Plano Chamber of Commerce and performed a short skit about the Christmas Cops Program at the weekly Business Interchange that meets every Friday morning at the Plano Chamber of Commerce. They asked the members to donate $40 for a bike.  The goal was to have 50 bikes to be presented to the Christmas Cops Program.
We are so excited to tell everyone that we did it!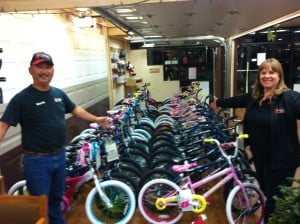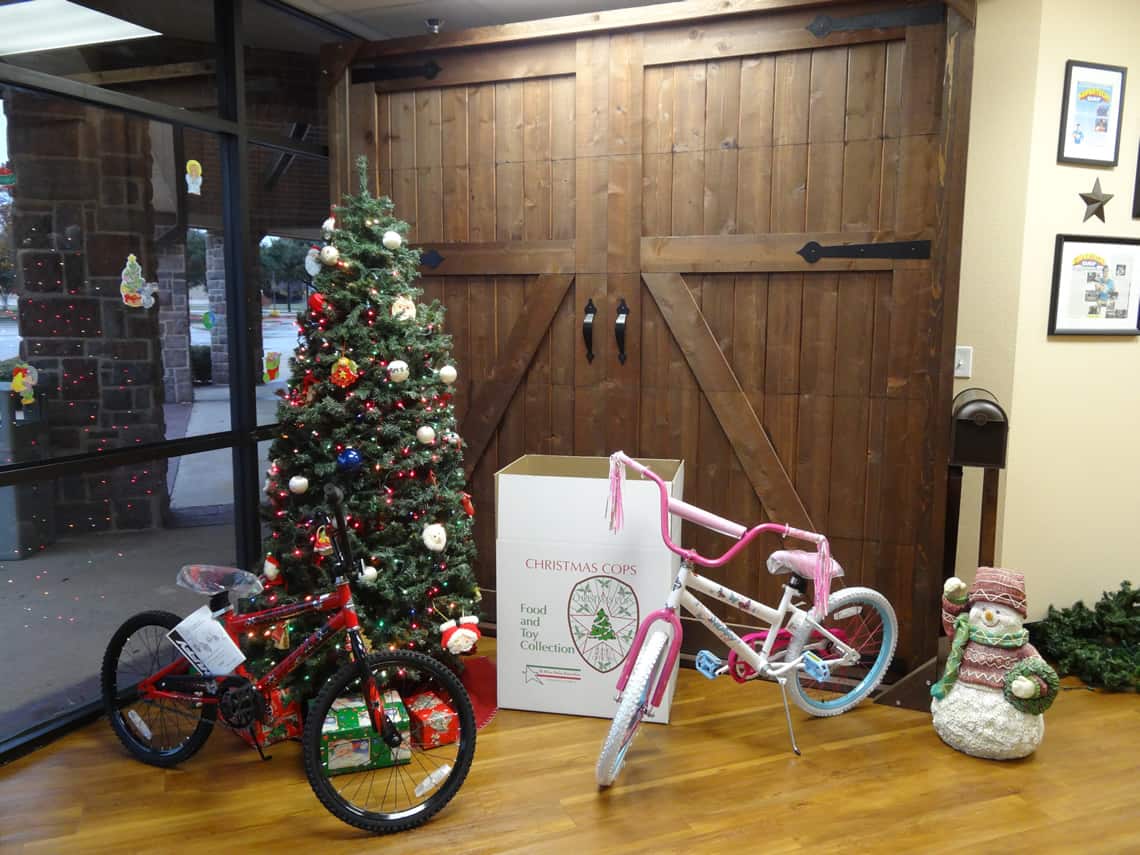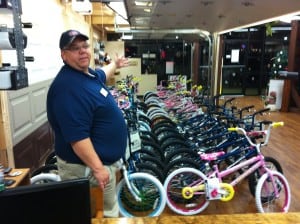 We actually received 53 bikes total!  Thank you to all the Plano Chamber members that participated, employees and owner of A1 Affordable Garage Door Repair Services for storing the bikes in the showroom "garage" located in Plano at highway 75 and Parker Road.
We personally want to Thank each and everyone of you!
Gene Champagne – Jersey Mike's Subs
Kevin Kodama – A1 Affordable Garage Door Services
John Tanner – Alflac
George Dearing – The Persuasive Group, LLC
Steve Lee – Crest Cadillac
Hennie Vilijoen – Kleen Air Services
Melissa Michael – Star Local Media
Julie Holmer – Angela's Crosswalk
Janelle Twyford-Silvis – AlleeOops Photography
Tom Denton – Legal Shield
Scott LaCagnin – Technical Surveillance Counter Measures
Chris Fribourg – Arthur Blake Insurance
Jim McDevitt – Corner Wines
Dave Steinman – College Hunks Hauling Junk
Cheryl Webb – The Realtor with "Red Shoes"
Randall Patterson – Farmers Insurance
Gary Hirsch – Hirsch's Meat Market
Peter Young – B4the buckstops.com
Tim Kunes – Foster Financial Group
Dan Donahue – Tetra Media Group
Kem Young – Kem Young Bookkeeping
Sonja Kabell – USANA
Marie – Click4Corp
Neil Gould – Plano Super Bowl
Amanda Stern – Pioneer Gold & Silver Exchange
Ali Samana – Cheap Electric Now
Clifford Gomes – Central Auto Paint & Body Collision
Dan Greer – Merrill Lynch
Stephanie Brown – City of Plano
Kimberly Putman – 360[it]
Pam & Neal Bert – CPA
Peggy Fenwick – Fenwick Insurance Agency
Arlene & Leon Wallace – Lucky Duck Embroidery
Jenny Gohmert
Jean Larson
Lorraine M. Haugen