Garage Door Opener WI-FI Connectivity – Never Look Back Again
Take convenience and safety to a whole new level with the LiftMaster® 8550WLB WI-FI Ready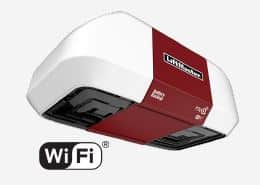 MyQ™ Technology now with WI-FI, built-in enables secure monitoring and control of your garage door opener with a smartphone, tablet or laptop
Alerts can be received as email or pop-up (push) notifications on your mobile device, ensuring the status of the garage door
MyQ™ app is a Free download requiring no annual activation fee
Security+ 2.0® safeguards garage access – with every click a new code is sent to the garage door opener ensuring the door does not inadvertently open
Get in your garage every time, even when the power is out. The reliable, integrated Battery Backup System ensures your garage door opener, as well as the safety and security features, will continue to work
Timer-to-close feature allows the door to automatically close after a pre-programmed number of minutes
Energy efficient operation consumes up to 75% less power in standby mode
WARRANTY – Lifetime on the motor and belt, 5 years on the parts and one year on the battery back-up
Safety and Security
Belt Drive System for powerful, ultra quiet performance
Soft Start/Stop for smooth operation
DC Motor is purposely designed for quiet, long-lasting operation
Battery Backup ensures garage access even when the power's out
Built-in WI-FI for the easiest way to connect the garage
Automatic Garage Door Lock Capable: Deadbolt locks the garage door, making it virtually impenetrable (optional – sold separately)
Security+ 2.0® safeguards garage access – with every click a new code is sent to the garage door opener ensuring the door does not inadvertently open
PosiLock® locks down the door by electronically monitoring against a forced opening
Timer-to-Close automatically closes the door after a pre-programmed number of minutes
Alert-2-Close Warning System provides audible and visual warnings when a garage door is about to close when using MyQ™ Technology or Timer-to-Close
Motion Detector is integrated into the Smart Control Panel® providing rapid detection and illumination of garage
The Protector System® incorporates safety sensors which emit an invisible light beam across the garage door opening, automatically reversing the door if an object interrupts the beam
893MAX 3-Button Premium Remote Control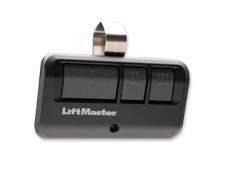 Easy-to-use remote with LED lights that make it easier to use at nighttime.
Control up to three LiftMaster® garage door openers or MyQ™ enabled light.
880LM Smart Control Wall Console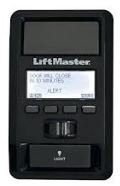 Easy programming of remotes, keypads, MyQ™ accessories and WI-FI Garage Door Openers
An intuitive menu-driven LCD display enables simple adjustment settings
Easily view temperature, time and system diagnostic
Use Timer-to-Close to automatically close the garage door in 1, 5 or 10 minutes
485LM Integrated Battery Back-up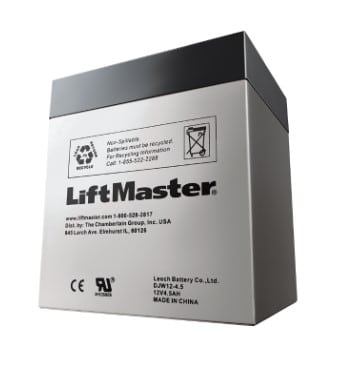 Power's up the opener when the power's out
Fast and easy replacement
LiftMaster® 8550WLB Beltdrive Accessories
841LM Auto-Lock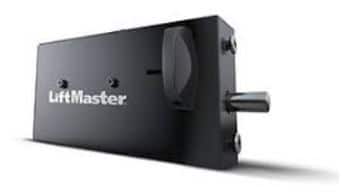 Deadbolts the garage door automatically every time it closes
Virtually impossible to lift the garage door from the outside
877MAX Wireless Keypad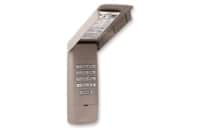 Provides convenient, secure access from outside the garage with a 4-digit PIN
Compatible with all garage door openers manufactured by LiftMaster® since 1993
Open or close a garage door without using a remote control or key
Program a temporary code for friends and service people
829LM Garage Door and Gate Monitor
Allows you to always have control of your garage door from inside your home.
It includes two LED lights that tell you whether your garage door is open or closed. It also has an audible alert that tells you if your garage door is open.
You can also close your garage door from inside your home.
The MyQ™ enabled technology allows you to control up to four garage doors at a time.
825LM Remote Light Control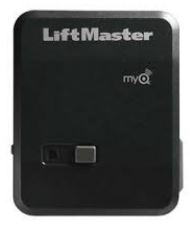 Allows control of any lamp using a garage door opener remote control or smartphone via the MyQ™ app
8550WLB Battery Backup Beltdrive Features
Steel Chassis, T-rail and Trolley
Auto Force – Adjustment for changing weather and environment conditions
Electronic Limits for easy setup
DC Wi-Fi Logic Board with Built-in Surge Suppressor
2 Lock Terminals allows up to 2 auto locks to be connected
Ventilation/Pet Opening
Emergency/Quick Release
Automatic Trolley Reconnect
Maintenance Alert System
HomeLink Compatible – Version 4.0 or Higher*
Garage Door Opener Capacity of up to 40 remote controls, 4 wireless keyless entry systems and 16 MyQ Devices
Maximum 2 – 100-Watt lightbulbs
Adjustable time on lighting
Enhanced CFL (Compact Fluorescent) Compatible**
Permanent Lubrication
Automatic Thermal Protection
UL Listed
6′ Power cord (3 prong)
*May require an external adapter depending on the model and year of your vehicle. Visit HomeLink.com for additional information

**Some LED Lightbulbs have been known to cause interference issues with garage door openers reducing the range of remote controls and wireless keyless entries. If you choose to use LED bulbs, the following brand/models are approved for use by LiftMaster below.