How to Adjust Safety Sensors on a Garage Door
Realigning or adjusting the safety sensors on a garage door is one of the most common questions we get asked every day! There are many names such as photo eyes, ISB's (Infrared Safety Beams), sensors and black boxes at the bottom of the garage door tracks. By law they can only be located 6″ off the ground.
These ISB's are required to help keep your family safe by not having the garage door close on a vehicle, person, child or pet.  This law was put into effect in 1993.  These ISB's can be very frustrating when the garage door won't close. It seems to happen when in a big hurry to get to work, go on a trip or somewhere important.  We have made a video on what to look for and how to re-align your sensors for quick reference.  If you have additional questions, our office will also be happy to walk you thru it over the phone 972-877-5774. Free of charge!
Watch Kevin explain the difference on sensors.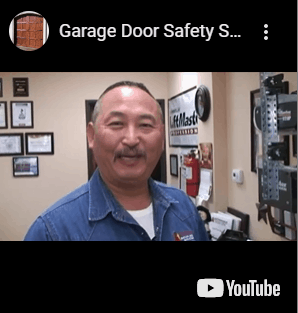 Most ISB's from LiftMaster will have a yellow/amber colored pin hole light on one side (the sending eye) and the opposite side will have a green light (receiving eye).  If the green light is off or flickering more than likely the sensor has been either bumped out of alignment or knocked off the bracket.  Watch the video to help you re-align your own sensors.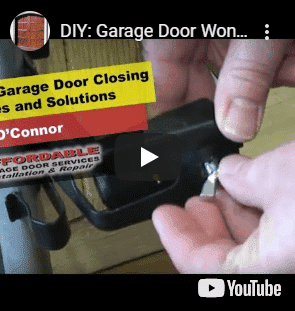 Note: Other manufacturers like Genie will have a red light and a green light. The same principles apply.
Garage Door Safety Sensors or ISB's
Sometimes the sensors will burn out or rats, mice even dogs will chew thru the wires.  Those are some of the areas to check.  When it's cold outside the rats and mice like to live in your garage.

TIP: Put steel wool in the bottomseal at the bottom of the garage door to prevent these varmints from getting into your garage.  They don't like chewing on the steel wool and will move to another location.
If you need to replace the garage door safety sensors, our garage showroom in Plano keeps them in stock. We are located in Plano on the Northwest corner of Highway 75 and Parker Rd.