During this time of increasing public concerns with regards to COVID-19, the Coronavirus, we wanted to take this time to let you know that the health and safety of our customers and employees is our first and foremost priority. Due to this event we have listed below what our garage door specialists are doing in the office as well as our garage door service technicians are doing below.
Our industry is considered an "Essential Business". We have posted the letter from IDA-International Door Association at the bottom for your review. We are and will continue to answer your call 24/7. Our Service Technicians are ready to help you during this time. Please rest assured we are doing everything we can to help keep your home in a safe condition.
Garage Door Showroom Procedures for COVID-19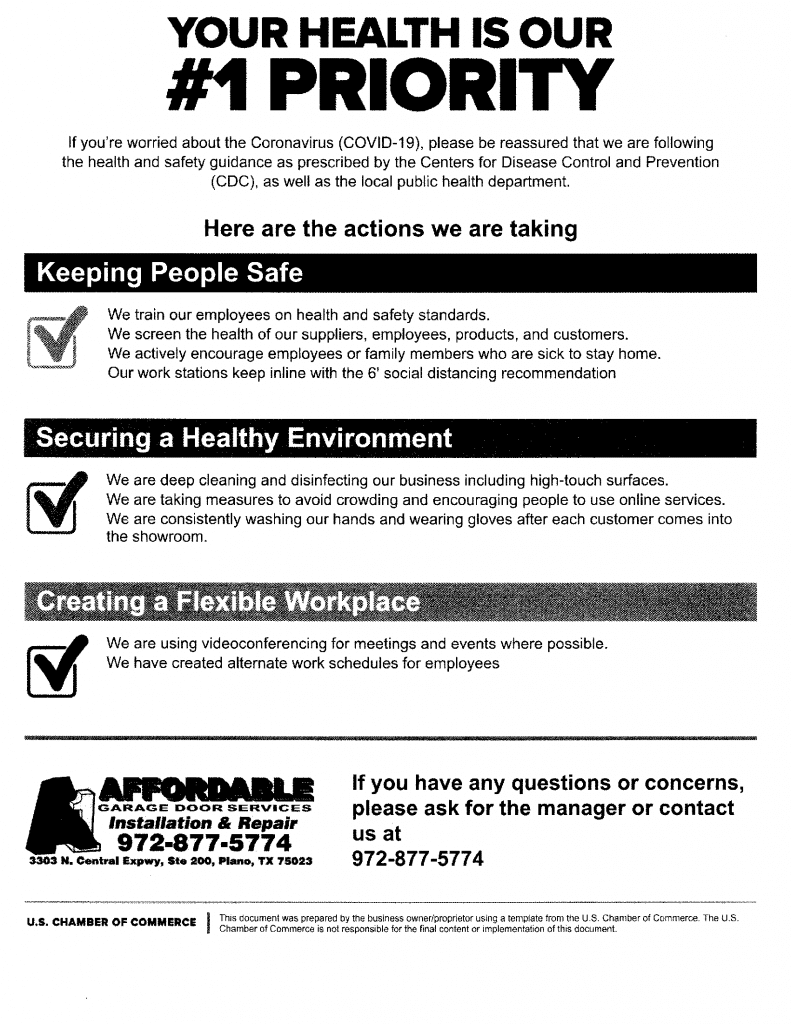 All Employees are being advised to stay home if they are feeling sick or have family members that are sick.
Beginning on Friday, March 27, 2020 all employees will be scanned with a thermometer on the forehead to make sure they do not have a temperature. If they have one they will be sent home.
All Employees in our showroom will be wearing gloves at all times.
When a customer enters our showroom we will keep the 6′ social distancing recommendation by the "CDC".
After a customer leaves the showroom we will wipe down all surfaces touched to keep everyone safe.
Garage Door Repair Procedures for our Service Technicians During COVID-19
All Service Technicians will knock or ring the doorbell. When a customer answers they will keep a 6′ social distance from the customer. No Hand Shaking just a Smile and a Wave.
When collecting payment for a garage door repair or new installation, our technicians will give you the option of calling in the credit card number or giving the numbers to the technician to run on their company phone that is set up for credit card processing and extremely secure.
All Service Technicians will wipe down any surface they have touched for your safety.
All Service Technicians have gloves and hand sanitizer available to them during any installation or repair.