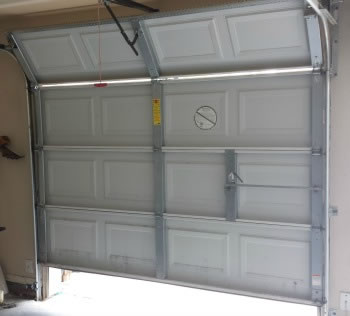 Garage doors open and close numerous times throughout each year. With that usage, you are bound to experience a malfunction at one point or another. A garage door that only opens halfway is a common issue. Continue reading to help identify why your garage door is stopping halfway.
How to Identify Why a Garage Door is Opening Halfway?
First, close your garage door then pull the emergency release cord. The emergency release cord is the card hanging in the center of the garage near the garage opener. By releasing the cord, it will disconnect the opener trolley from the garage door. Next, attempt to open the garage door manually, if it doesn't open, then there is something wrong with the door. If it opens with no problem, then you most likely experiencing a problem with your garage opener.
Reasons Why My Garage Door Is Not Opening All the Way
There are a few reasons why a garage door opens only halfway:
Weather conditions; extreme heat or cold
Worn parts or mechanics
Warped railing
Broken springs or drums
Debris blockage
Extreme heat or cold can cause railing to contract or expand. Though it is not just limited to the railing, other parts of the garage can wear out or malfunction from the weather conditions. Worn parts on a garage door may need to be replaced to fix the issue. If your garage door has a broken spring or damaged drum, it could be causing the garage door to open only halfway. Cables could be tangled or the railing could have a blockage.
There are several reasons why a garage door is stopping halfway. The best thing to do if you are experiencing a garage door that won't open all the way is to reach out to a professional garage door technician. Have a garage issue? Give us a call at A1 Affordable Garage Door.